A person was carjacked while waiting for a food order in downtown Silver Spring, Maryland, Wednesday, police said, marking the third carjacking in that area in under two weeks.  
Officers were called to reports of a carjacking on Fenton Street at Ellsworth Drive around 7:15 p.m., Montgomery County Police said.
They found a victim who says he was approached by three men while waiting for their food. The men pulled him out of his 2012 Black Honda Civic and drove off, police said.
The victim sustained minor injuries, police said.
No arrests have been announced, and the car has not been found.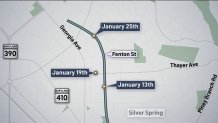 Police have investigated two other carjackings recently about a half-mile from that crime scene.
On Jan. 13, a man was carjacked at gunpoint in a parking lot in the 8200 block of Fenton Street, police said.
A woman told police she was forced out of her Toyota Camry at gunpoint by multiple suspects in a Safeway parking lot on Thayer Avenue.
No arrests have been announced in either crime.
The latest incident is raising concerns as the D.C. area continues to deal with a rise in carjackings over the last few years.


Read More: 3 Carjackings Reported in Downtown Silver Spring in 2 Weeks – NBC4 Washington