---
Get instant alerts when news breaks on your stocks. Claim your 1-week free trial to StreetInsider Premium here.
---
VANCOUVER, British Columbia, Jan. 24, 2023 (GLOBE NEWSWIRE) — P2 Gold Inc. ("P2" or the "Company") (TSX-V: PGLD) (OTCQB: PGLDF) reports the initial Mineral Resource Estimate ("MRE") for the near-surface gold mineralization drilled to date at the Monarch Gold Zone, a newly-discovered deposit at its BAM Project. The gold-copper BAM Project is located in the Golden Triangle of northwest British Columbia.
"The announcement of an initial Mineral Resource Estimate for the near surface mineralization at the Monarch Gold Zone in just eighteen months from discovery speaks to the continuity of the zone, as well as the capabilities of our exploration team," commented Joe Ovsenek, President and CEO of P2. "As importantly, it highlights the potential size of the porphyry system at depth that is driving the surface mineralization. The Monarch Gold Zone is currently defined for over a kilometre along strike, remains open in multiple directions, and is hosted within a large sericite/ankerite alteration system that covers the western half of the Property. The size and intensity of the mineral and alteration systems at surface are clearly indicative of a substantial porphyry system at depth. During 2023, the focus of the BAM Exploration Program will be exploration for the feeder zones and the porphyry system at depth and expansion of the near-surface mineralization."
BAM Project, Monarch Gold Zone Mineral Resource Estimate
The initial Monarch MRE comprises 520,000 ounces of gold in an Inferred Mineral Resource at a grade of 0.59 g/t (Table 1). The pit-constrained Mineral Resource Estimate starts at surface and continues to a depth of 190 metres over a strike length of 1,250 metres, with the Monarch Gold Zone open to expansion by drilling to the northeast and southwest. A plan map of the Monarch Gold Zone is available here.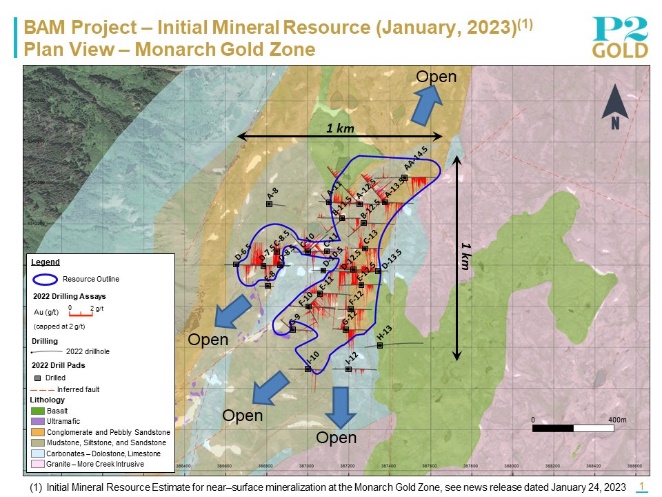 The Monarch MRE was prepared by P&E Mining Consultants Inc. ("P&E"), based on six diamond drill holes (836 metres) completed by the Company in 2021 and 95 diamond drill holes (13,958 metres) completed by the Company in 2022. A National Instrument 43-101 Technical Report will be prepared by P&E and posted on www.p2gold.com and under the Company's profile on www.SEDAR.com within 45 days of the date of this news release.
Table 1: January 2023 BAM Project, Monarch Gold Zone, Pit Constrained Inferred Mineral Resource Estimate(1–5)
| | | | | | | |
| --- | --- | --- | --- | --- | --- | --- |
| Tonnes(M) | Gold Grade(g/t) | SilverGrade(g/t) | Gold(M oz) | Silver(M oz) | Gold Eq.Grade(g/t) | Gold Eq.(M oz) |
| 27.2 | 0.59 | 2.52 | 0.52 | 2.21 | 0.62 | 0.55 |
(1)   Mineral Resources which are not Mineral Reserves do not have demonstrated economic viability. The estimate of Mineral Resources may be materially affected by environmental, permitting, legal, title, taxation, sociopolitical, marketing, or other relevant issues.(2)   The Inferred Mineral Resource in this estimate has a lower level of confidence than that applied to an Indicated Mineral Resource and must not be converted to a Mineral Reserve. It is reasonably expected that the majority of the Inferred Mineral Resource could be upgraded to an Indicated Mineral Resource with continued exploration.(3)  The Mineral Resources in this press release were estimated using the Canadian Institute of Mining, Metallurgy and Petroleum (CIM), Standards on Mineral Resources and Reserves, Definitions (2014) and Best Practices (2019) prepared by the CIM Standing Committee on Reserve Definitions and adopted by CIM Council.(4)  The Mineral Resource Estimate was prepared for a potential open pit scenario using a constraining pit shell (with 50 degree slopes) at a 0.2 g/t gold equivalent cut-off grade. The gold equivalent cut-off grade was derived from US$1,800/oz gold, US$24/oz silver, CAD:USD of 0.77, C$2.50/tonne mining cost, C$12.00/tonne milled processing costs, C$1.50/tonne G&A cost, and 90% and 80% gold and silver process recoveries, respectively. (5)   Gold equivalent g/t = Gold g/t + (Silver g/t x 0.012)
BAM Project, Monarch Gold Zone Mineral Resource Estimate Cut-Off Grade Sensitivities
The Monarch MRE sensitivity table, Table 2 below, shows the potential for higher-grade Mineral Resources at higher gold equivalent cut-offs, which potential can be assessed during engineering studies.
Table 2: January 2023 BAM Project, Monarch Gold Zone Pit Constrained Inferred Mineral Resource Estimate Cut-Off Grade Sensitivities(1–2)
| | | | | | | | |
| --- | --- | --- | --- | --- | --- | --- | --- |
| Cut-OffGold Eq.(g/t) | Tonnes(M) | GoldGrade(g/t) | SilverGrade(g/t) | Gold(M oz) | Silver(M oz) | Gold Eq.Grade(g/t) | Gold Eq.(M oz) |
| 0.6 | 10.2 | 0.97 | 3.04 | 0.32 | 0.99 | 1.00 | 0.33 |
| 0.4 | 18.0 | 0.75 | 2.82 | 0.43 | 1.63 | 0.78 | 0.45 |
| 0.2 | 27.2 | 0.59 | 2.52 | 0.52 | 2.21 | 0.62 | 0.55 |
(1)    Refer to the footnotes to the Mineral Resource Estimate in Table 1 of this Press Release.(2) …


Read More: P2 Gold Announces Initial Mineral Resource Estimate for the Monarch Gold Zone at