The current crypto market uptick has pushed Ripple's XRP market capitalization beyond $20 billion for the first time since September 2022, according to CoinMarketCap data.
Over the last 24 hours, XRP grew by 4.14% to $0.4096 as of press time. The positive price movement has seen its market cap rise to as high as $21.11 billion from a low of $19.65 billion — this indicates that the crypto coin added over $1 billion to its market cap during the reporting period.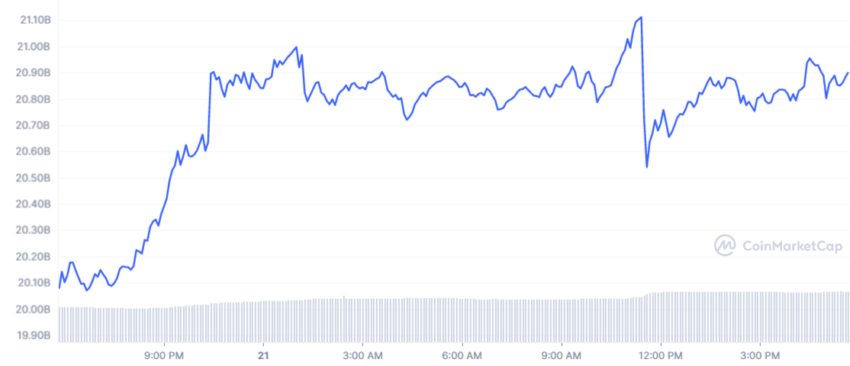 Ripple CTO Says XRP is a "Commodity"
Ripple's chief technology officer David Schwartz tweeted that XRP fits the definition of a commodity on Jan. 20. Schwartz said:
"XRP is a raw good that trades in commerce and one XRP is treated as equivalent to every other XRP."
He noted that this was "pretty much the definition of a commodity." He added that no part of the coin's value "comes from anyone else's legal obligations to XRP holders."
Ripple and the U.S. Securities and Exchange Commission (SEC) have been engaged in a legal tussle over whether XRP was sold as an unregistered security. In a recent interview, the crypto company CEO Brad Garlinghouse poured cold water on the possibility of the firm settling with the SEC.
According to Garlinhouse, a settlement would only occur if the regulator agreed that XRP was not sold as a security. Another top executive at Ripple, Stuart Alderoty, tweeted that the case's outcome would broadly affect the U.S. crypto space.
Altcoins on Green Rampage, $400 Million Liquidated
CoinMarketCap data shows that the crypto market cap reclaimed the $1 trillion mark during its over 7% rally in the last 24 hours. Bitcoin surged 8.87%, while Ethereum gained 5.13%.

During this period, several altcoins also recorded positive price movements. According to CoinMarketCap, Solana rose 18%, while Cardano grew by 10%. Binance-backed BNB saw 4.36% gains. Another notable gainer within the period included Aptos, which rose by approximately 50%.
Meanwhile, roughly $400 million have been liquidated in the crypto market over the last 24 hours, according to Coinglass data. Per the data, the market rally liquidated 85,000 traders, and the largest liquidation event happened on BitMex.
A further look at the data showed Bitcoin was responsible for $154.93 million of the liquidations, while Ethereum accounted for $105.8 million. Altcoins like XRP, Solana, XRP, etc., cumulatively made up the balance.
Disclaimer
BeInCrypto has reached out to company or individual involved in the story to get an official statement about the recent developments, but it has yet to hear back.




Read More: Ripple XRP Market Cap Crosses $20B Amid Broad Market Rally