While each new ladder claims to be that suburb's version of Jacob's, they have about as much connection to it as the original Elvis impersonators do to the King. They look kind of the same and people going up and down make similar noises, but they're not in the same league (although late period Elvis would have benefited from any of these facilities).
Nonetheless, each of the ladders will get your heart racing – that's a guarantee – and offer some cool extras, such as a great view, a lovely post-workout stroll or a few pieces of equipment to get the body not just fit but in-shape for the summer.
JACOB'S LADDER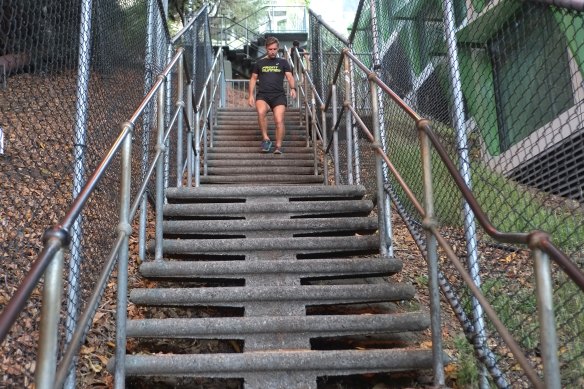 I vividly remember my first encounter with Jacob's Ladder. After pounding the pavement for many months I felt confident of matching the smart young crowd who descend on this stunning corner of Kings Park after a hard day making fortunes in the St George's Terrace silver mines.
I glided from top to bottom without breaking a sweat. One of the chief attractions of Jacob's Ladder is that most people start at the top, giving you a chance to warm up before tackling the ascent.
Bursting with confidence I charged up three flights, wondering why there was so much talk about it being a killer. Then it hit me. My heart-rate shot up so fast I had to grab the rails, prompting an elderly woman to enquire about my wellbeing. I managed to get out between gasps that I was OK. ("I'm on my sixth!" trilled the geriatric goddess as she showed me a clean pair of walking shoes).
Worse was to come. When I tried to push in the clutch in my ancient manual Ford station wagon the damn thing wouldn't go down. The ladder had done a Delilah on this poor man's Samson, draining me of my strength and forcing me to wait a half an hour before I could drive home.
I now manage to get up and down the ladder without embarrassing myself, but I have never become its master. Indeed, even the fittest-looking climbers struggle. This is why Jacob's Ladder is a Perth fitness icon. Like Mark McGowan, it cannot be beaten.
Address: 1 Cliff Street, Perth
Hours: Open 24 hours
THE KOKODA TRACK
If Jacob's Ladder leaves you gasping you'd better have an ambulance waiting for you at the top of The Kokoda Track.
While it is not as steep as Jacob's and with far fewer steps – a mere 150 with sloping footpaths in between the clusters of stairs – Kokoda's lack of symmetry, changes in surface and switches in direction make this arguably the most challenging course tested by WAtoday.
What adds several extra degrees of difficulty is its length. The Kokoda Track is 21 metres longer in vertical height than Jacob's Ladder and never seems to end. It would take a super fit athlete to run at a good pace from bottom to top. Or a crook fleeing the coppers.
Sightseers present a further challenge. Less of a fitness destination and more of a walk for visitors to Kings Park, Kokoda has the openness needed for climbers to get up speed, but you're likely to be stopped in your tracks by an Icelandic backpacker asking directions to the DNA Tower.
But the Kokoda Track is very shady and there is little chance of taking a tumble as it's more path than staircase. It also gives you a chance to contemplate the far greater suffering of those who endured the terrors of the trail it memorialises. And they didn't have a cappuccino waiting at the other end.
Address: Begins at Kennedy Fountain on Mounts Bay Road and winds up to Kings Park
Hours: Open 24 hours
GOLDEN BAY'S LADDER
This recently opened staircase in a new estate located just north of Mandurah is unique among the facilities surveyed in that it sits in the heart of a community. Residents can look out of their window and see the 118-step structure, much like Parisians can gaze out at the Eiffel Tower.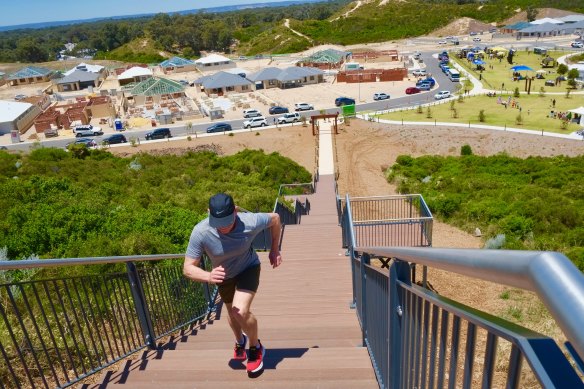 It's a round-the-clock reminder to haul their butts out of bed and start climbing. And as Golden Bay Ladder does not match the challenge of Jacob's or Kokoda – it's more of an easy stroll up to superb 360 views of the ocean and surrounds – I can imagine the Golden Bay Stairs will become a healthy meeting place for the community.
Even better, its peak is the starting or finishing point of a gorgeous walking or jogging track that rolls through the dune, making this a very nice all-round outdoor training facility.
It also features a brilliant children's playground not far from the base of the ladder. So while tackling the ladder you can keep an eye on the kids. Or,…


Read More: Our top reviews and access information