The UK is facing a wave of strikes this winter, with at least one walkout a day ahead of Christmas, as workers from different industries seek better pay.
From transport to the NHS, education to delivery drivers, tens of thousands of people from various industries are expected to take industrial action as recession grips the UK and the cost of living rises.
Sky News looks at the industries that are striking and why.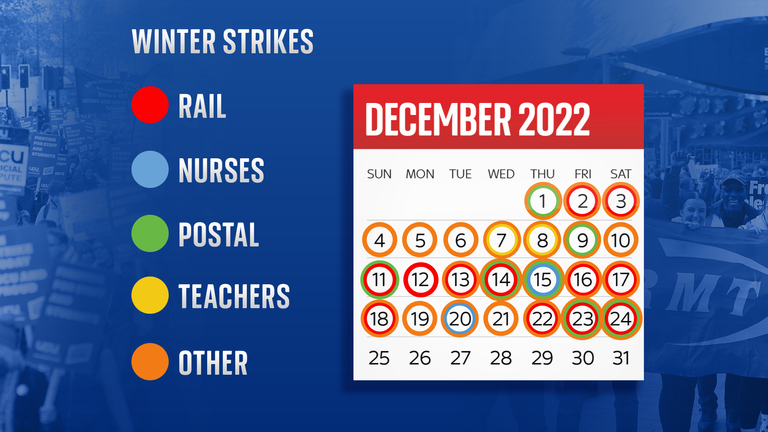 Transport
Rail
Rail strikes take place on 11-12 December (just Avanti West Coast), 13-14 December, 16-17 December, 3-4 January, 6-7 January.
An overtime ban from 18 December until 2 January by RMT members will also affect many train services.
Eurostar strikes will take place on 16, 18, 22, 23 December.
Various unions have planned rail strikes this winter.
The Rail, Maritime and Transport Workers (RMT) union represents Network Rail workers, who operate railway infrastructure such as signals, and workers at 14 of the UK's 28 train companies.
RMT general secretary Mick Lynch is arguably the most well-known union official and said his members are striking in response to the government cutting jobs and refusing to increase pay in line with inflation.
He also said the government wants to make changes to the Railway Pension Scheme by reducing benefits and making staff work for longer while paying increased contributions so they will have less money in their pension pots.
RMT boss 'hopeful' of govt offer

Mr Lynch said the government plans to "attack" terms, conditions and working practices by using "fire and re-hire" and cut real-terms pay for most members through lengthy pay freezes and below RPI inflation pay rises.
The RMT wants a pay rise, which it has not put a figure on, and reassurance jobs will not be cut, as well as working practices and conditions protected.
RMT members who are security staff on the Eurostar, some who earn £10.66 an hour, will walk out after refusing a below-inflation pay offer.
Aslef, which represents train drivers at 12 companies, is also striking, with its members wanting a "proper" pay rise to help with the increased cost of living as they say they have not had a pay increase since 2019.
The union said a number of train companies "have their hands tied" by the Department for Transport so are unable to negotiate a "reasonable deal", which is why they are striking.
Bus
Abellio strikes are taking place on 2-3 December, 9-10 December, 16-17 December.
Metroline strikes are set for 8-9 December, 15-16 December.
GMB strikes in Sunderland will take place on 23-24 December and 26-27 December.
Unite members working on Abellio-run buses in south and west London and on Metroline buses in north and west London are striking in November and December in a dispute over pay.
The union has said Abellio has failed to enter into "meaningful pay talks" about salary increases due for January 2023 and says its members are among the lowest paid in London.
It said Metroline's offer of a 10% pay increase amounted to a real terms pay cut due to high inflation.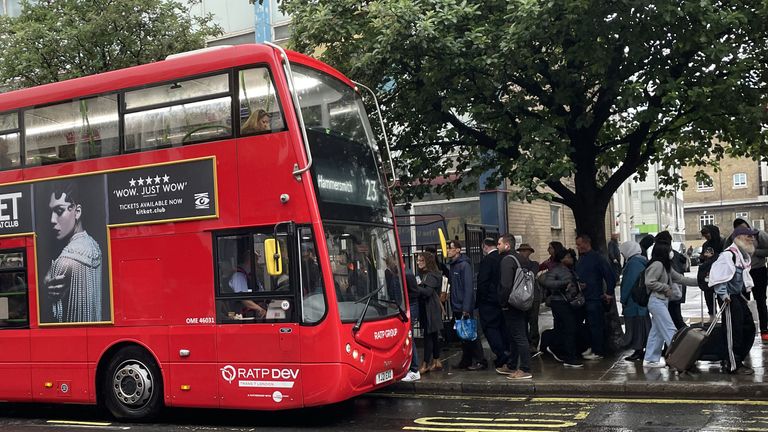 GMB members who work as bus drivers for Stagecoach in Sunderland are striking over "real-term pay cuts" as they say the company is refusing to negotiate.
Stagecoach North East disputes this and says an offer has been made that would make those drivers "amongst the highest paid of any bus drivers in the region".
Roads
Staggered strikes across English regions between 16 December and 7 January.
16-17 December: Northwest, Yorkshire and North East. 22-25 December: London and South East. 30-31 December: West Midlands and South West. 3-4 January: All areas. 6-7 January: East Midlands and Eastern.
National Highways employees, who plan, design, build, operate and maintain the country's roads, will take part in a series of "staggered" strikes in England.
Their union, PCS, says the action risks bringing the road network to a standstill and that the walkouts will coincide with the planned strikes by RMT members on the railways.
Traffic officers help keep the roads moving and users safe through planning and delivering schemes as well as providing key safety services such as rolling road blocks, smart motorways and lane closures.
Their dispute is over pay, pensions, job security and redundancy terms.
Air
16 December from 4am for 72 hours.
A total of 350 baggage handlers employed by Menzies at Heathrow airport are due to strike ahead of Christmas in a continuing pay row.
Unite said it would affect passengers using Air Canada, American Airlines, Lufthansa,…


Read More: Strikes every day before Christmas – which sectors are affected and why |