Renting an apartment in New York City this summer? Say hello to sky-high prices and a fight to the finish.
Amid the heat and the occasional rain, there's a mad scramble to rent affordable apartments in Gotham, which has been undersupplied for many years. Real estate agents describe the mayhem when it comes to prices.
"It's nuts," Jessica Peters, a real estate agent with Douglas Elliman, told MarketWatch. "We can't even keep up anymore. We're, like, let's just put up this crazy number, and we're getting it."
Offices in the city are trying to woo more employees back: The city is not near full capacity yet — foot traffic to office buildings in NYC is still down 40.6% compared to pre-pandemic levels. But some workers are coming back, restaurants, movie theaters and Broadway are back, and college students are preparing to start school. 
Consequently, the median monthly rent is up $725 in June on the year and $59 on the previous month, according to Zillow. The median monthly rent in NYC is $3,300, 53% higher than the national median of $2,155. 
"'A lot of renters will be in for a rude awakening.'"

— Jessica Peters, a real estate agent with Douglas Elliman

Peters said that the reality was far worse on the ground. "I just rented something … in Williamsburg. It's a great two-bedroom ground floor unit, with a big backyard," she said. "We were asking $6,500. We got $7,000."
Peters, who specializes in the Brooklyn area, said that while rental prices may be fluctuating a little, the reality is clear for someone looking to be in the city.
"If you're coming back after not renting in either Brooklyn or Manhattan in the last ten years, a lot of renters will be in for a rude awakening," Peters added.
(Reminder: Realtors and real estate agent make money on a commission basis, meaning the hotter the market, the higher their earnings.)
That said, the rental market in New York is reflecting a broader intensification of the inventory pressures, which is leading to bidding wars among renters across the country.
But in New York, one of the most expensive cities in the U.S., even some tenants in rent-stabilized apartments cannot catch a break. The city's Rent Guidelines Board has signed off on hikes as high as 3.25% for new one-year leases, and 5% for two-year leases.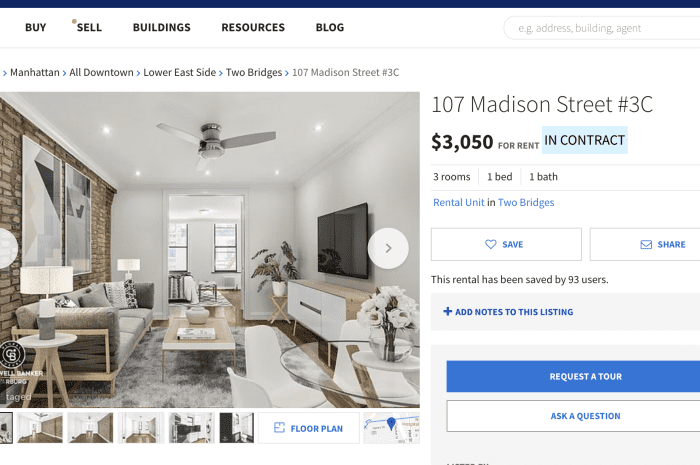 Mihal Gartenberg, a real estate agent with Coldwell Banker Warburg, said the market's wrath was normal; it was just operating on a demand-and-supply basis.
There are people who are simply willing to pay more, he said. "It's getting to the point where we're not the ones deciding what these are going for," Gartenberg added. "This is a true market enterprise."
Technology was aiding some renters in their search for a home.
A two-bedroom luxury apartment she put on the market for rent two months ago in the Lincoln Square area attracted people streaming in during a two-hour open house in ten-minute increments, on top of prospective renters who joined on FaceTime
AAPL,
.
"We priced it in my opinion… quite high," Gartenberg said, at $7,800, "but we ended up taking even more. The person who ended up taking the apartment offered $400 more… we had an offer of $8,200, and they also offered to pay the broker fee, which is an additional month." 
"'I feel very uncomfortable with this idea that the first person to see a listing is the first one to get it.'"
Over this past weekend, she had open houses for two apartments in…


Read More: 'It's nuts': Real estate agents describe chaos in New York City's hot rental