Thematic ETFs have been an investment darling for a few years now. I must admit I've been just as susceptible with quite a few of them sitting in my own portfolio. But are they worth their management fees and are they even suitable for most investors?
The layman might well ask, what even are thematic ETFs?
"Thematic ETFs provide Australian investors an ability to invest in a megatrend which is a long-term structural shift that transforms economies like battery technology or robotics and automation. Depending on the risk appetite and overarching investment goal, thematic ETFs could be suitable for many type of investors."                                                                                                          Kanish Chugh, Head of Distribution, ETF Securities.
The popularity of thematic ETFs shouldn't come as a surprise. They can offer easy access to some of the most topical themes of the day, such as climate change, in one package diversified across many companies and in one simple trade. 
It is difficult for many investors, not least those in Australia, to access up and coming companies in some of the megatrend fields – some companies might be start-ups, others might be listed internationally and therefore more complicated for an Australian investor to access outside of using an investment product like an ETF.
In some cases, it is also matter of investing on the basis of your values and interests. Love robotics? Buy a robotics ETF. Concerned about modern slavery in factory production? Buy an ETF with an ethical slant.
There's no question thematic ETFs are meeting interest and demand, but are they suitable for every investor racing to buy them?
Unfortunately, not all thematic ETFs focus on megatrends. Many of them are effectively the latest headline to attract interest. As Investment strategist Giselle Roux says, "any idea that seems to be the flavour of the month suddenly becomes an ETF".
To assist in analysis, I've used Morningstar's definition of thematic ETFs which are funds that target exposure to one or more investment themes, such as climate change or automation. 
Based on their definition, Morningstar's charts exclude some ETFs that issuers may otherwise consider thematic, such as ETFS S&P Biotech ETF (ASX code: CURE) or BetaShares Asian Technology Tigers ETF (ASX code: ASIA).
The recent explosion of investment into Thematic ETFs
In just two years, global assets under management for thematic funds nearly tripled to $806 billion as of the end of 2021.
Australia was no exception, with ETFs dominating flows. Today, thematic ETFs account for approximately 2% ($2.62 billion) of ETF assets under management.
According to Morningstar analyst Justin Walsh, of the 17 thematic ETFs available in Australia, only six were listed prior to 2020 so performance history has been limited and many ETFs were launched to capitalise on shorter-term interests, such as work-from-home technology.
Thematic funds typically operate in the growth space so it's not entirely surprising that technology is the dominant theme accessed in these funds.

Cost, performance and risk
#1 Cost
Thematic ETFs are a more niche investment, accessing more tailored indices and are typically more expensive fee-wise than broad-based index counterparts. Fees typically range from 0.57% to 0.95% (more if actively managed). It's worth noting that fees can eat into returns, but investors tend to be less concerned about that as long as the performance is there.
The chart below shows performance against fees – for comparison's sake, I've also included two of Australia's cheapest ETFs covering the Australian market and the US market.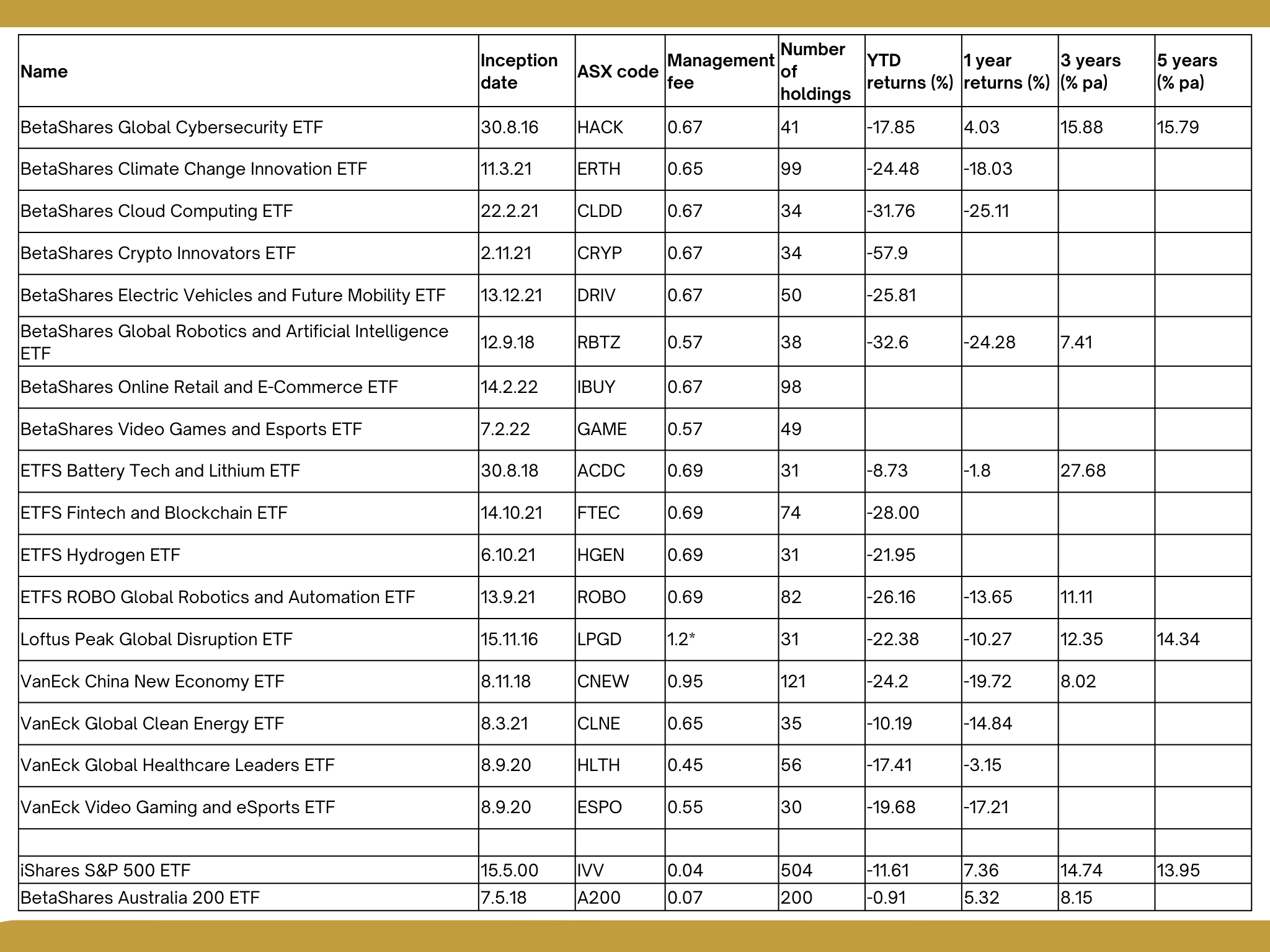 #2 Performance
 Stockspot's ETF Report 2022 suggests that Australian investors have lost more than $100 million investing in thematic ETFs in the last year and the performance numbers above support this in the short term– but is this enough to say they are not worth investing in?
Kanish Chugh, Head of Distribution at ETF Securities, says:
"In the current environment in which we face rising rates, higher inflation, and supply chain disruptions, many thematic ETFs have had their performance hit. But to many investors these ETFs now present an attractive opportunity for megatrends will always remain critical to the evolution of society."
Most of the ETFs in the table have a limited performance history and have been released in challenging markets. 
Even the broad-based indices have struggled…