The entire crypto universe is crashing. I am told that I am an idiot for confusing Bitcoin with Crypto.
Image from Michael Saylor's Twitter Profile
The Madness of Crowds
The entire crypto market cap including Bitcoin is $834.54B as I type out. At it's peak, the entire space was worth $2.9 trillion.
I mentioned the words "crypto" and "bitcoin" in the same sentence the other day to be informed that I was an idiot for confusing the two.
Memes of the Day 
The newly circulated idea of the day looks like this: 1 BTC = 1 BTC. 
I have seen that in perhaps a hundred Tweets recently. Yes, truly genius. And one US digital dollar = one US digital dollar. They are all alike.
$1 = $1 is equally brilliant. 
"Insane to Sell At These Levels" 
That is another one I heard repeatedly regarding Bitcoin when it fell from $69,000 to $50,000. I heard it again at $45,000, at $40,000, at $30,000, at $25,000, and at $20,000.
Clearly, it was not insane to sell at any of those prices. 
But it was insane to tell everyone who sold that the sellers were insane. 
"Can't Go Below $20,000" 
Last week on Twitter when I noted Saylor would get a margin call at $21,000 I was blasted in two different ways.
Several people Tweeted Bitcoin could not possibly dip below $20,000 because they have seen the order flows. 
Damn, it seems the order flows did not care what those fools thought. 
That brings to mind yet another meme I heard at lest 20 times on Twitter.
"Bitcoin Does Not Care What You Think"
That's true of course, given that Bitcoin cannot think at all. 
Here's another "brilliant" truism. 
The Bitcoin does not care where Bitcoin believers think the price of Bitcoin is headed.
"Worst Case on Ethereum is $1,000″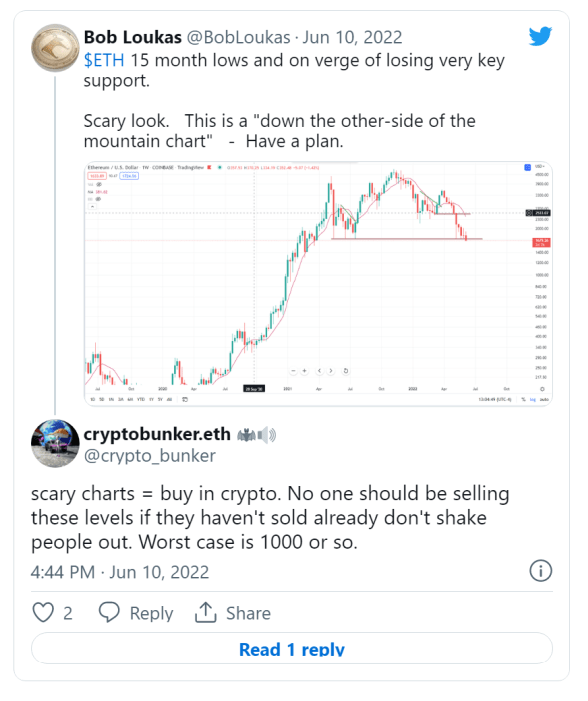 June 10 Flashbacks 
"No one should be selling at these levels." 
Worst case is $1,000 or so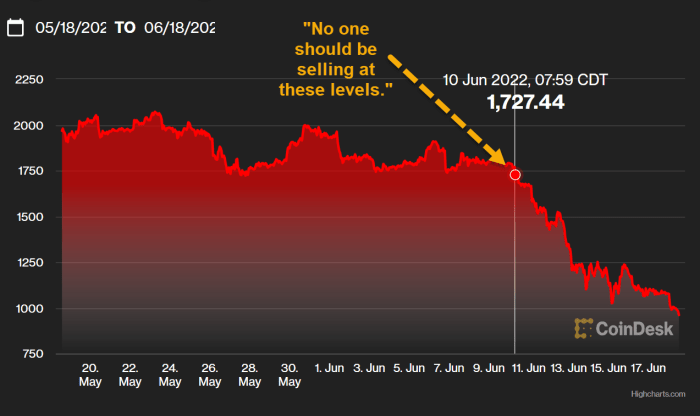 Questioning $1,000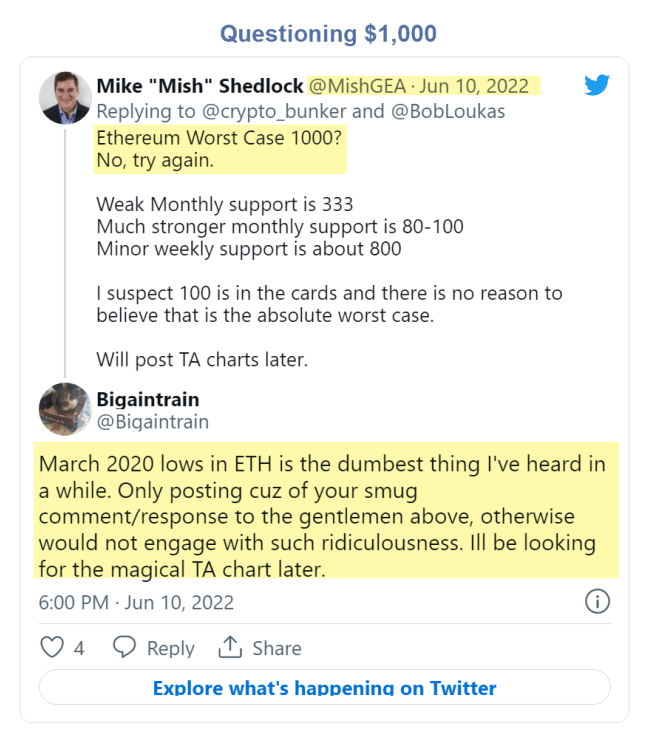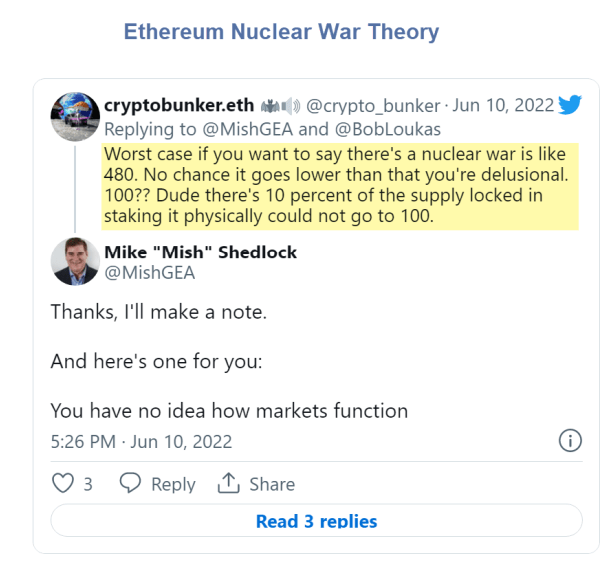 The Ethereum Nuclear War theory new worst case is $480. 
I have to post captured images instead of Tweets because I have been blocked from reading these threads.
That's OK. I made notes. 
Staking Theory 
But let's discuss this new idea. "Ethereum cannot go to $100 because of physical staking". 
This guy clearly has no idea how markets work. 
And a second irony is staking is one of the things contributing to the crash.
Please consider Staked Ethereum (stETH) Could Cause A Crypto Crash, Here's How
Celsius, stETH, AAVE, Lido, and Ethereum are all in the mix. 
Yet, I have countless Tweets all telling me why I am wrong and why whatever the hell they believe in is different. 
Stable Coins 
The allegedly stable coin LUNA went to $0. 
Many more are headed that way. 
Margin Calls 
There's a big debate over margin calls. Judging from the number of inane Tweets I conclude most people have no idea what it means. Alternatively, those who know the least are the most vocal. 
A margin call is triggered when someone has to post more margin as collateral for a loan drops. 
A key margin call is in play because Microstrategy CEO Michael Saylor borrowed money, posting Bitcoin as collateral to buy more Bitcoin.
His average price is over $30,000.
I wrote about margin calls on May 8 in As Bitcoin Breaks Support, Bulls and Bears Pretend to Know the Unknowable.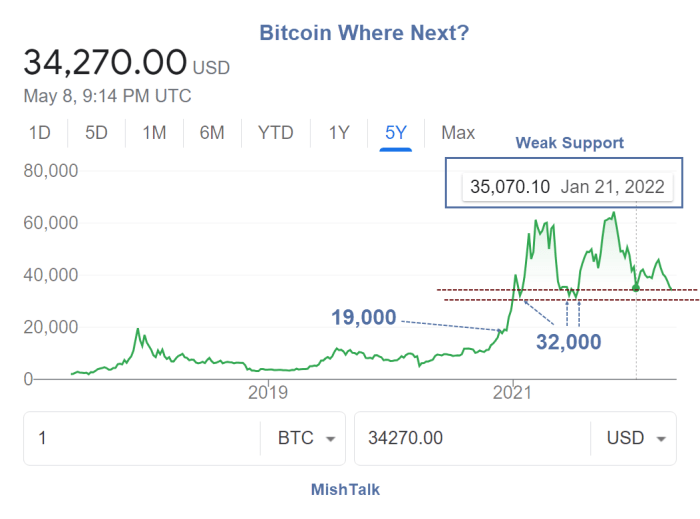 Let's tune into what I said then.
There is no reason, fundamental or technical, for a bounce at the $32,000 level to hold. And if it doesn't, the next support is at the $19,000 level.

The $19,000 level is an interesting level because margin calls are in play. 

The casino is clearly open folks, and MicroStrategy has morphed into a leveraged speculative play on Bitcoin. A margin call awaits at $21,000 with support at $19,000.
There was a margin call at $21,000 assuming the level given by the MicroStrategy CFO in a conference call was accurate.
Yet, despite that message from the company, countless people have said there is no margin call at that level because Saylor can keep pledging more and more Bitcoin as collateral all the way down to $3,500 (yet another level that allegedly "cannot" happen).
This triggered yet another ridiculous set of responses, this time from people who think they know what I think, what money is, and what money always does.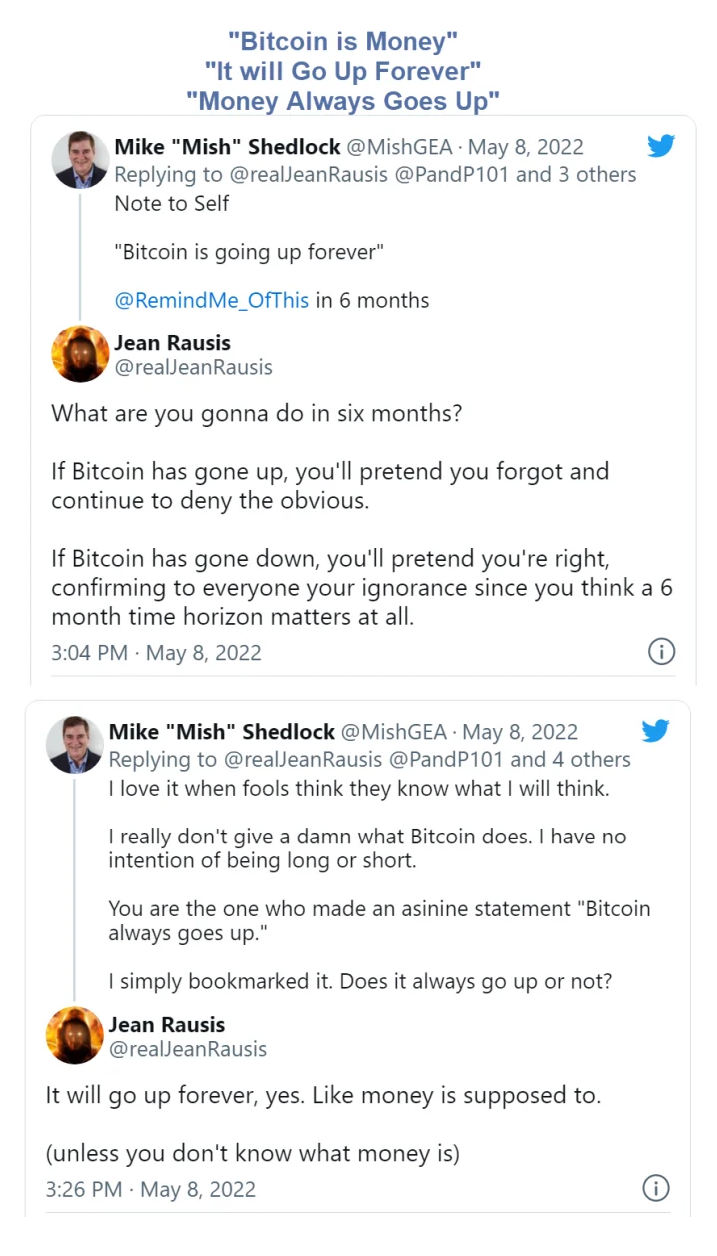 Contradictory Notes 
"Bitcoin is Money"
"It will Go Up Forever"
"Money Always Goes Up"
Alternatively $1BTC = $1BTC and $1 = $1
Cascading Liquidations
I cannot keep up with all the events. I do not know if it's even possible. 
But I can tell you two trading platforms have halted withdrawals and anyone on those platforms is likely to be wiped out (lose everything or nearly everything).  
Fortune reports A major crypto hedge fund is wobbling as $10 billion Three Arrows Capital Sees a Spate of Liquidations
After…


Read More: The crypto crash and why it's impossible for "you!" to cash out