Cash used to be king for Carolina Reyes. She would only hand over hearty snacks from her grill on the Pacific coast of El Salvador in exchange for green US dollar bills or rusty old dimes.
But now she is selling her pupusas — the country's signature stuffed cornbreads — for cryptocurrency.
"It was hard to get used to at first, but I'm getting pretty good at using the app," she says with a grin, proudly flashing the Bitcoin Beach wallet she uses to receive payments.
Like many Salvadorans, Reyes has never had a bank account. Now she can accept electronic payments from customers — which is useful when they have no cash to hand.
But the 42-year-old mother of four did not jump into the complex world of cryptocurrencies out of curiosity.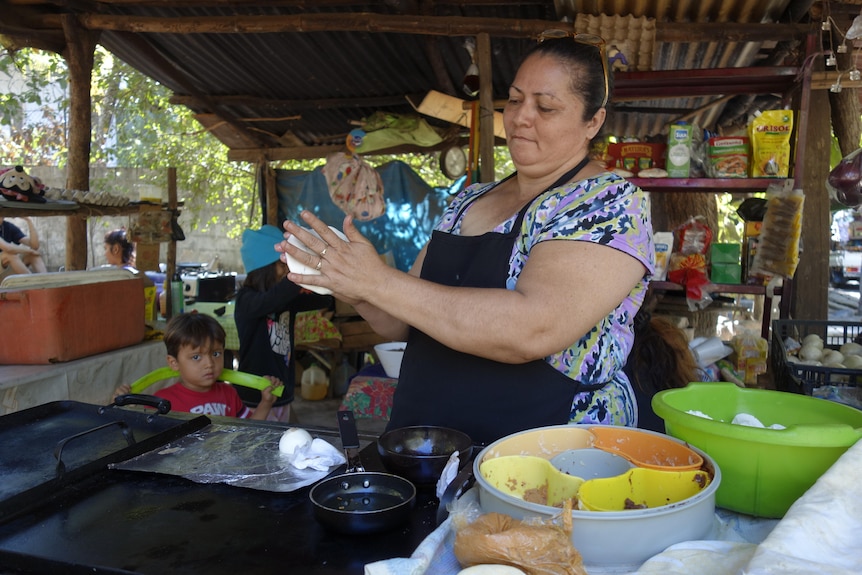 Salvadoran businesses were required to accept bitcoin from September 2021, when President Nayib Bukele made the central American country the first in the world to make cryptocurrency legal tender.
The move is already transforming El Salvador's image and has sparked a boom in tourism. Eventually it will make the country a regional tech hub and lift it out of poverty, Bukele says, with the rest of the world following suit.
But the move is unprecedented. Foreign governments are concerned that bitcoin's decentralised payments could strengthen the country's powerful drug trafficking gangs. Economists fret that it could bankrupt the already poor nation. 
"I was excited by bitcoin, it seemed good," Reyes says, as her three daughters wash green vegetables behind her. But she has heard that outside of the tourist region where she lives few want to use it and half of El Salvador's six million people cannot, as they have no internet access.
"Do you know what? I'm starting to wonder if it's a good idea, but maybe here, in El Salvador, it simply won't work."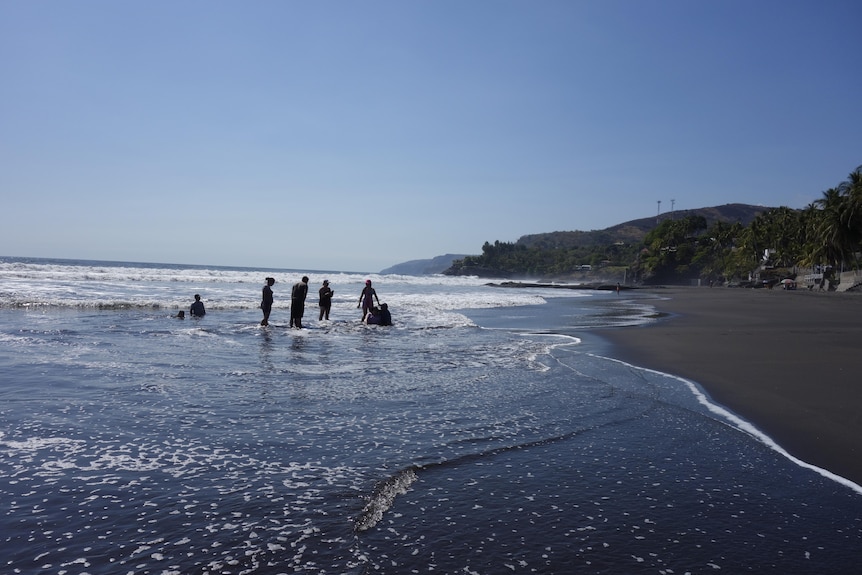 From surfing to crypto
Around El Salvador's postcard black volcanic beaches, bitcoin has already become a hit.
"With all the incredible places that you could visit in Latin America, why else would you come to El Salvador?" says James, a British tourist and cryptocurrency aficionado, shrugging his shoulders. "Bitcoin!"
Room reservations have surged since the cryptocurrency became legal tender alongside the US dollar in 2021.
"Before it was all 'Surf City' and now it's all 'bitcoin'," says Carlos Marenco, owner of The Beach Break Hotel in El Zonte, laughing. "For us personally, it's great business." 
Traditionally the country's foreign tourists were intrepid surfers, who have been drawn to El Salvador's legendary waves for decades — even during its brutal civil war.
Now late-night conversations in the local bar are more likely to be about how bitcoin is revolutionising the world than today's beach break, Marenco says.
Tourism has increased 30 per cent thanks to the bitcoin bump, with many coming to see if their crypto-dream is coming true: Is a peer-to-peer digital token really replacing traditional money?
In the rustic beach town of El Zonte, the answer appears to be yes. "Aceptamos Bitcoin", (We Accept Bitcoin) signs are riveted to many of the metal shacks which house humble neighbourhood stores.
Luxurious beachfront hotels where guests can pay in bitcoin are emerging from a flurry of construction and the Bitcoin Beach office is nearly ready for inauguration. At the Hope House educational centre, families are attending a class on how bitcoin could benefit them.
The spread of bitcoin in El Zonte inspired Bukele's decision to roll it out nationwide. Locals began exchanging cryptocurrency on their smartphones after an American crypto-enthusiast sent bitcoin to businesses and NGOs on the condition that they use it for payments. 
But there's a problem
But Bukele's vision has since outgrown the experiment in the quaint fishing village.
El Salvador's government has spent US$180 million of taxpayers' money on rolling out 200 bitcoin ATMs and the national crypto-wallet. It bought $75 million worth of bitcoin on the premise that its value will increase. And it is borrowing $1 billion to buy bitcoin and build a tax-free "Bitcoin City" powered by energy from a nearby volcano.
There is an issue, however: Outside of the beach towns filled with crypto-curious foreigners, no one wants to use it. 
"We aren't going anywhere near that bitcoin thing," says Cindy Flores, who runs a corner shop in the capital, San Salvador. "We don't trust it."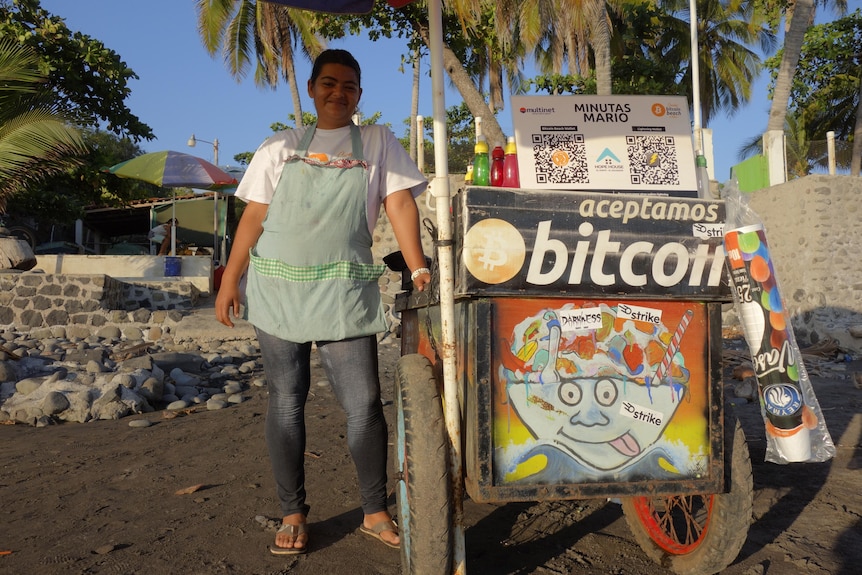 Like at…


Read More: El Salvador's bitcoin experiment makes tech tourists happy but the locals are