For the eighth week in a row, the EUR/USD has been unable to leave the 1.1850 level. With factors such as the resurgence of COVID-19 in Europe and fresh Brexit tumult, forex players are treading lightly. Subsequently, rates have remained in consolidation largely between 1.1750 and the 1.2000 psychological barrier.
Late Thursday, reports from the World Health Organisation (WHO) suggested that COVID-19 infections are currently spiking to record numbers. WHO regional director Hans Kluge stated that "weekly cases have now exceeded those reported when the pandemic first peaked in March." 
For the time being, the markets aren't actively pricing-in Kluge's ominous warnings. The fact is, the global testing apparatus is far more advanced that it was in March. More testing means more positive cases; comparisons between March data and September data are of little value. However, Kluge is right about one thing ― COVID-19 continues to spread with no end in sight.
Let's take a look at the EUR/USD and see where this pair stands to end the week.
EUR/USD Holds Firm Within Long-Term Bullish Territory
The EUR/USD continues to trade sideways today, for the second straight week. Rates are hanging very close to 1.1850, well above any areas of intermediate-term support.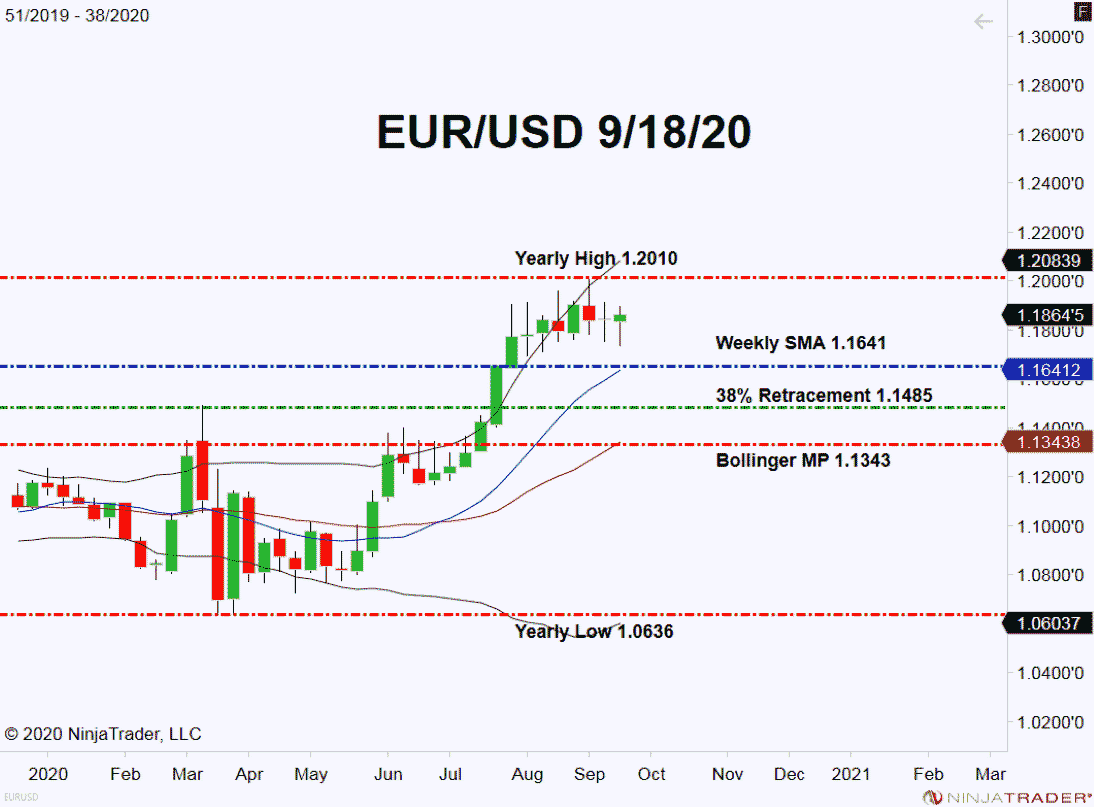 Here are a few levels to watch as we roll into late-September:
Resistance(1): Psychological Barrier, 1.2010

Support(1): Weekly SMA, 1.1641

Support(2): 38% Retracement, 1.1485
Overview: Until we see a concerted test of downside support, a bullish bias remains warranted toward the EUR/USD. However, we are likely in for an extremely active fall season. If you're actively trading this pair, be on the lookout for election, Brexit, and COVID-19 news. Although the EUR/USD is sleeping now, a directional move is likely to develop in the coming weeks.




Read More: EUR/USD Holds In Long-Term Bullish Territory