As the post-coronavirus world develops a greater awareness of global supply chains, we talk to Leanne Kemp, the CEO and founder of Everledger who has made it her mission to increase transparency and trust within global markets.
Aside from Everledger, a company that uses blockchain technology to create digital records that track the supply chain of luxury goods like gemstones and fine wine, Kemp is a leader in the blockchain space in myriad other ways. She co-chairs the World Economic Forum's Global Future Council on the Future of Manufacturing. She also was recently appointed to Global Blockchain Business Council as a Regional Ambassador of Australia, one of the most crypto-friendly countries in the world.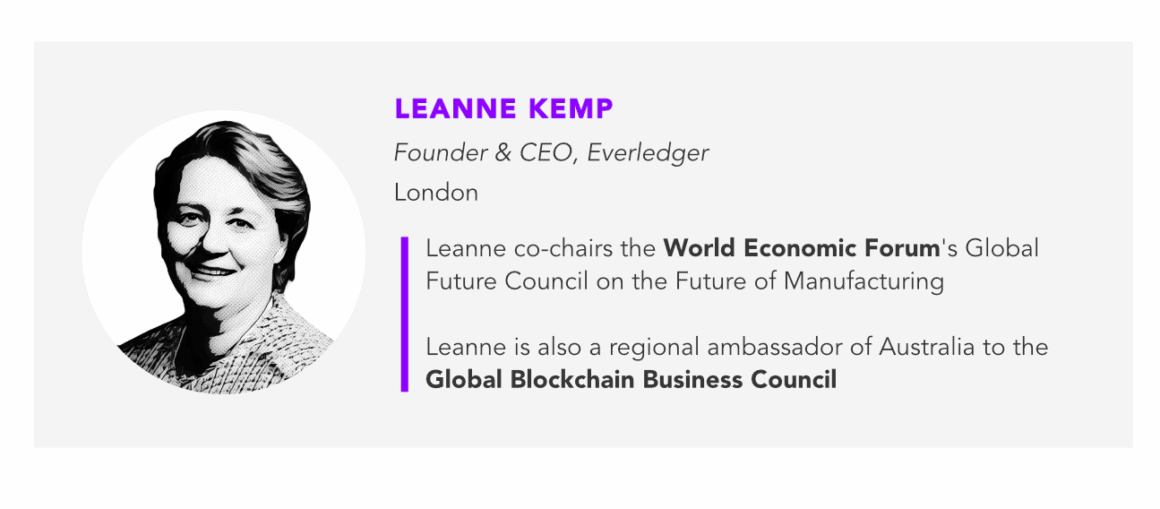 Kemp recently sat for a Q&A with Forkast.News to discuss the future of blockchain, the work that needs to be done to make the world a more sustainable place, and how a company's environmental footprint goes a long way in its relationship with its customers. She also explains how blockchain not only helps guarantee product authenticity but also promotes ethical labor practices, with Everledger's work in Tanzania to track gemstones "from mine to finger" as an example.
The following Forkast.News interview with Kemp has been edited and condensed.
With your recent appointment to the Global Blockchain Business Council, how do you feel about using the organization's resources to further blockchain education, innovation and development in Australia?
Despite its modest population, Australia is home to a number of world-first blockchain applications, and the country has huge potential to benefit from innovations in the blockchain space. Combining blockchain technology with other technologies can add economic value to a range of business sectors. Australia can contribute to an estimated global annual business value of over US$175 billion by 2025 generated by blockchain as it has a real treasure trove of natural resources that need to be tracked, protected, and harvested sustainably. 
Unlocking Australia's potential and implementing practical applications of blockchain requires buy-in from multiple stakeholders all working together across the globe. It is not something that can happen in a vacuum. Large and small private sector corporations at all the different points of the supply chain, and a plethora of different public sector bodies including regulators, international organisations like the WEF (World Economic Forum) or the OECD, and NGOs will require coordination and involvement. The Global Blockchain Business Council has a unique position of being able to galvanise co-operation between stakeholders of all these bodies globally.
In what ways do you think greater investment by developing countries in blockchain can be helpful to their export markets?
Today's brands are faced with unprecedented pressure from consumers to be perceived as more ethical and responsible, and to show the provenance of products from production to consumer. And as today's socially conscious and progressive millennial audiences are particularly interested in ensuring they purchase from brands with ethical supply chains — there is more of a commercial incentive to do so than ever before. The environmental footprint of brands has quickly become a source of competitive advantage. Therefore, companies operating in developing countries can provide verifiable tracking data that they're manufacturing products or mining goods in an ethical way, by monitoring raw materials usage, waste and water management and proper use of chemicals. It will be more likely for them to see greater investment and business as result of their commitment to sustainability.
How can large multinational corporations tackle issues like waste and accountability among small producers in their supply chain? Can blockchain help bring production and efficiency to developing countries?
Multinationals need to establish several key elements if they want to be able to tackle the mounting issues of accountability in supply chains: a version of the truth that everyone can agree on, the ability to bring together a consensus between different stakeholders, and the security only an unalterable record can provide. Blockchain technology, when coupled with other technologies, provides all of these things, which is why it will be a key factor in allowing multinational corporations to effectively clean up their supply chains.
Is it possible to achieve supply-chain transparency on an international scale? What are the obstacles to this, and what can be done to resolve them?
Continued investment on an international scale in technologies such as blockchain will be essential for their potential to be fully realized. One of the challenges will be bringing on board…


Read More: How blockchain can promote sustainability and ethical labor practices