The tax structure behind REITs is designed for the business to distribute the largest part of their profit to shareholders (unit holders). For many, real estate is the definition of stability in the investing world.
However, one must be careful about which type of real estate you choose. Classic retailers are under significant pressure, and many shopping malls have and will deal with bankrupt tenants. Industrial REITs, including warehouses, distribution centers, data centers and cell towers, are likely going to do well, as they are supported by ecommerce and the internet. This is obviously a sector where you can invest 30% of your portfolio and still achieve a great diversification within the various sub-sectors. This sounds like a sound plan for income-seeking investors.
For retail REITs, I would pass. Most of them slowed down in 2019 due to the ecommerce trend. This trend will not stop in 2020… far from it. I'm more interested in apartment REITs.
That being said, one must make sure the REIT chosen will not only be able to sustain its dividend payment, but also to increase it. This is why I've built this US REITs ranking. This top three should give you the guidelines you need to select the right REIT for your portfolio.
3. The Cannabis REIT
Company Name: Innovative Industrial Properties
Ticker: IIPR
Dividend Yield: 3.65%
Dividend growth since: 2017
Distribution: Quarterly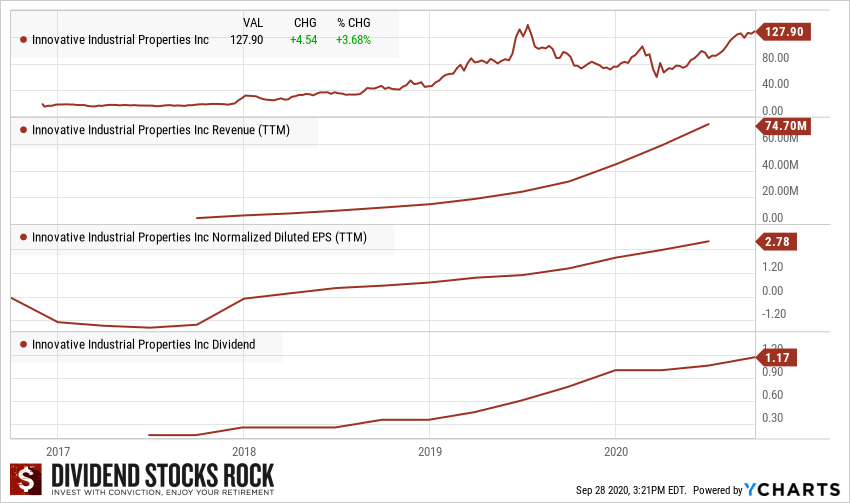 Business Model
IIPR is a real estate investment trust engaged in the acquisition, ownership and management of specialized industrial properties leased to state-licensed operators for their regulated medical-use cannabis facilities. It conducts its business through a traditional umbrella partnership real estate investment trust, or UPREIT, structure in which properties are owned by Operating Partnership, directly or through subsidiaries. The company faces competition from a diverse mix of market participants, including but not limited to other companies with similar business models, independent investors, hedge funds and other real estate investors, hard money lenders, and cannabis operators.
Investment Thesis
The cannabis industry is developing fast these days, but it's not done without hiccups. A good way to enjoy part of this potential is to go through a REIT specialized in medical licensed marijuana growers. You won't get the full hype (as compared to a grower), but IIPR is definitely looking to grow and fast. In the first 11 months of 2019, the REIT acquired 30 properties, and it keeps growing at a very fast pace. Both funds from operation (FFO) and dividend are following the same trend recently.
As for the units, Innovative Industrial Properties is currently fully rented and also grows through acquisition. Finally, it wouldn't be a surprise to see more U.S. states legalizing marijuana. This could result in more growth potential for the REIT.
Potential Risks
Make no mistake, IIPR doesn't touch the actual plant. It is not involved in producing any cannabis-related products. However, this doesn't mean its stock won't be affected by the hype (or fear). As you can see on the price graph, you can guess that if you invest in IIPR, you also buy a ticket for a roller-coaster ride. It's nice to see a company growing fast, but if management pays too much for their next acquisition or fails to integrate them, it could get ugly. While management goes on a shopping frenzy for new acquisitions, the cannabis bubble also pushes property prices higher. The cannabis sector is highly sensitive to regulations. What if laws change? IIPR had to offer rent deferral for some tenants, so don't expect huge dividend increases in 2020.
Dividend Growth Perspective
The REIT paid its first dividend in 2017. At this point, the company dividend graph looks like a launching ramp. The stock price is at its peak right now, but I believe the REIT is not done growing, so it could still be a good play to enjoy a solid ~4% yield. Management seems confident in the company's future, as it grows both its business and its dividend at a similar pace. The REIT targets at 75-85% AFFO payout ratio.
2. The Tech REIT
Company Name: Essex Property Trust
Ticker: ESS
Dividend Yield: 3.67%
Dividend growth since: 1994
Distribution: Quarterly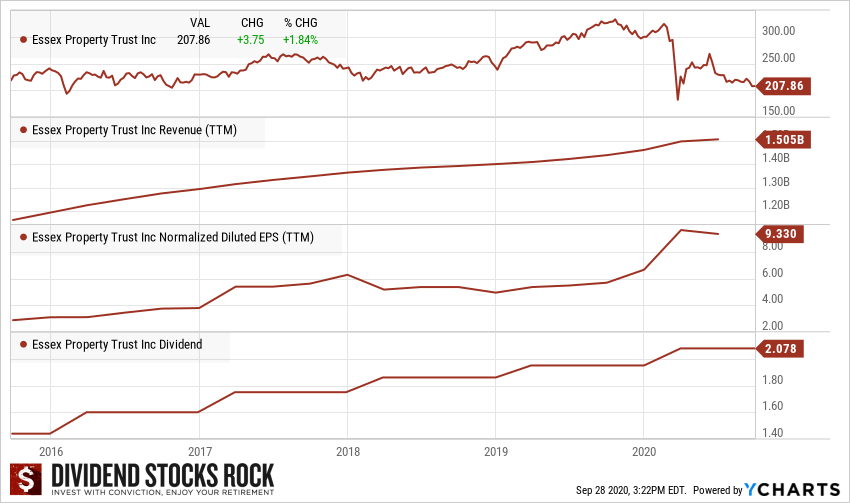 Business Model
Essex Property Trust owns a portfolio of 250 apartment communities with over 60,000 units and is developing seven additional properties with 1,960 units. The company focuses on owning large, high-quality properties on the West Coast in the urban and suburban submarkets of Southern California, Northern California, and Seattle.
Investment Thesis
Essex Property Trust is everything a REIT should be: a dominating position in a rich market, a decent yield, and a stellar…