It seems like blockbuster news headlines always happen when Wall Street is closed for business. This was certainly the case during the U.S. overnight session, as President Trump announced his positive COVID-19 test on Twitter:
"Tonight, @FLOTUS and I tested positive for COVID-19. We will begin our quarantine and recovery process immediately. We will get through this TOGETHER!"
Following Trump's post, equities and commodity futures tanked. Subsequently, the U.S. indices opened today's session deep in the red. However, bargain hunters have stepped in and driven the DJIA DOW (-54), S&P 500 SPX (-20), and NASDAQ (-190) well above opening lows.
Predicting the outcome of Trump's COVID-19 infection is difficult, but traders appear to be pricing in a full recovery. While the news brought an initial shock, the markets have shown some resilience. A 661,000 uptick in Non-Farm Payrolls (September) helped, although the number lagged projections (850,000) and the previous release (1.489 million). The key economic data from this morning's jobs report was a drop in the Unemployment Rate (September) to 7.9%. This is a strong gain, soundly beating consensus estimates of 8.2%. 
As it has frequently been since late-February, the primary driver of today's markets is COVID-19.
Trump's COVID-19 Diagnosis Sends Markets South
Upon Trump's COVID-19 announcement, December E-mini DOW futures took it on the chin last night. However, values have bounced dramatically from session lows and are threatening to go green.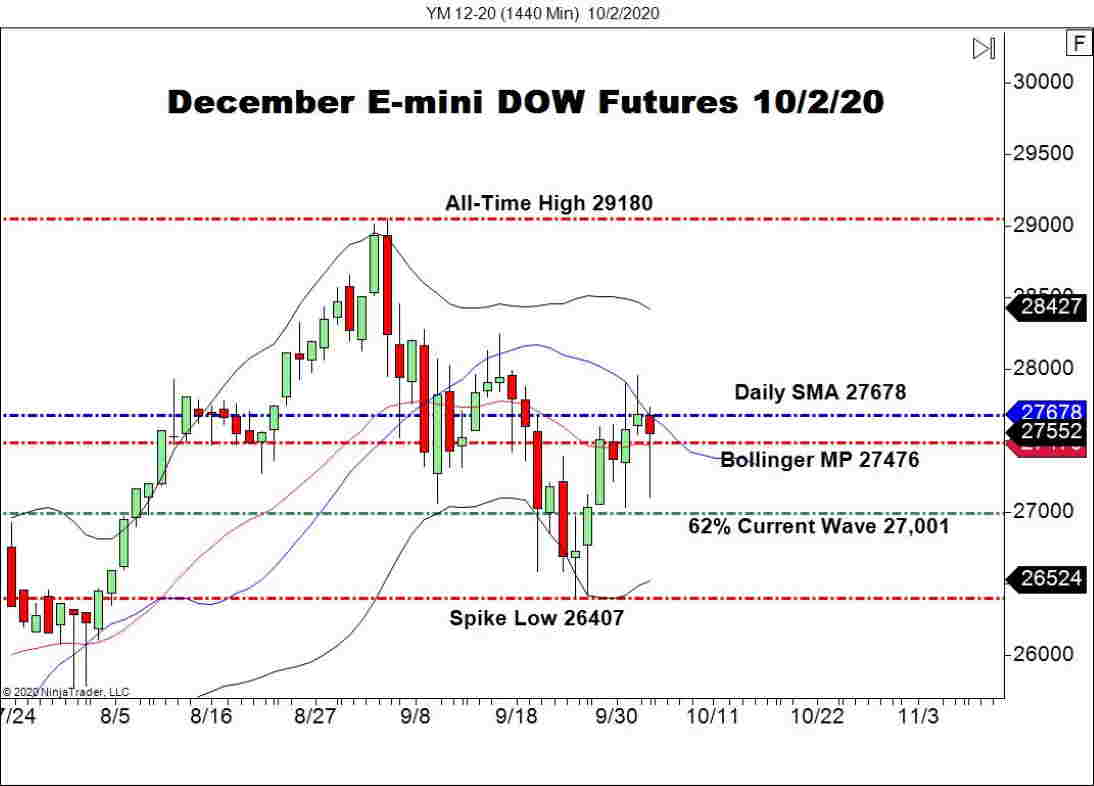 Here are the levels to watch going into the late session:
Resistance(1): Daily SMA, 27678

Support(1): Bollinger MP, 27476
Overview: Right now, traders and investors are scrambling to price Trump's COVID-19 infection into the markets. Although a full recovery is probable, the impact on the election remains to be seen. For the time being, equities players once again bought a panic dip in the hopes of a concerted rally.




Read More: Markets Attempt To Rally After Trump COVID-19 Diagnosis