Dr. Arnout ter Schure  | Sep 24, 2020 03:32PM ET
If you do not want to, or cannot, buy actual Bitcoins but do want to reap from their rewards, then one way to get exposure to the cryptocurrency is via the Gray Scale Trust (OTC:). Its ratio to BTC is 1-to-1000.
From an Elliott Wave Principle point of view, it tracks the underlying instrument reasonably well. Still, since BTC trades 24/7/365 and GBTC only trades during regular market hours there are some nuanced differences in their respective EWP-counts, which warrants tracking and analyzing both instruments independently. Moreover, once BTC starts soaring, GBTC comes at a premium. For example, at its 2017 all-time high, BTC was trading at around $19,000. GBTC, on the other hand, was sitting at $38. An almost 200% premium. This premium disappears again as BTC, and thus also GBTC moves lower. E.g. currently, BTC is trading at $10,700, while GBTC is at $11.20. A 4.7% premium. Thus, the age-old "buy low, sell high" recommendation is even more critical when it comes to GBTC. I provide daily updates about both instruments to my Premium BTC, GBTC Members, but would, therefore, like to share my views with you now as I think both instruments are at a critical juncture.
Below is the weekly candlestick chart of GBTC. It started trading early 2015, peaked in 2017, bottomed late-2018, and has since been slowly, and gradually moving higher again. The 2017 high was, in my humble opinion, a more extensive first wave, and GBTC is now A) either in its third wave, with 2018 as a wave-II and in the starting gates of wave-iii of 3, or B) it is tracing out a more massive corrective bounce. Regardless, in both cases, the instrument should move higher over the coming months, ideally per the red arrows, as shown. It assumes standard Fibonacci-based wave-extensions and retraces, which the market may or may not adhere to. But for now, that is all I can go by: anticipate, monitor, adjust.
Figure 1: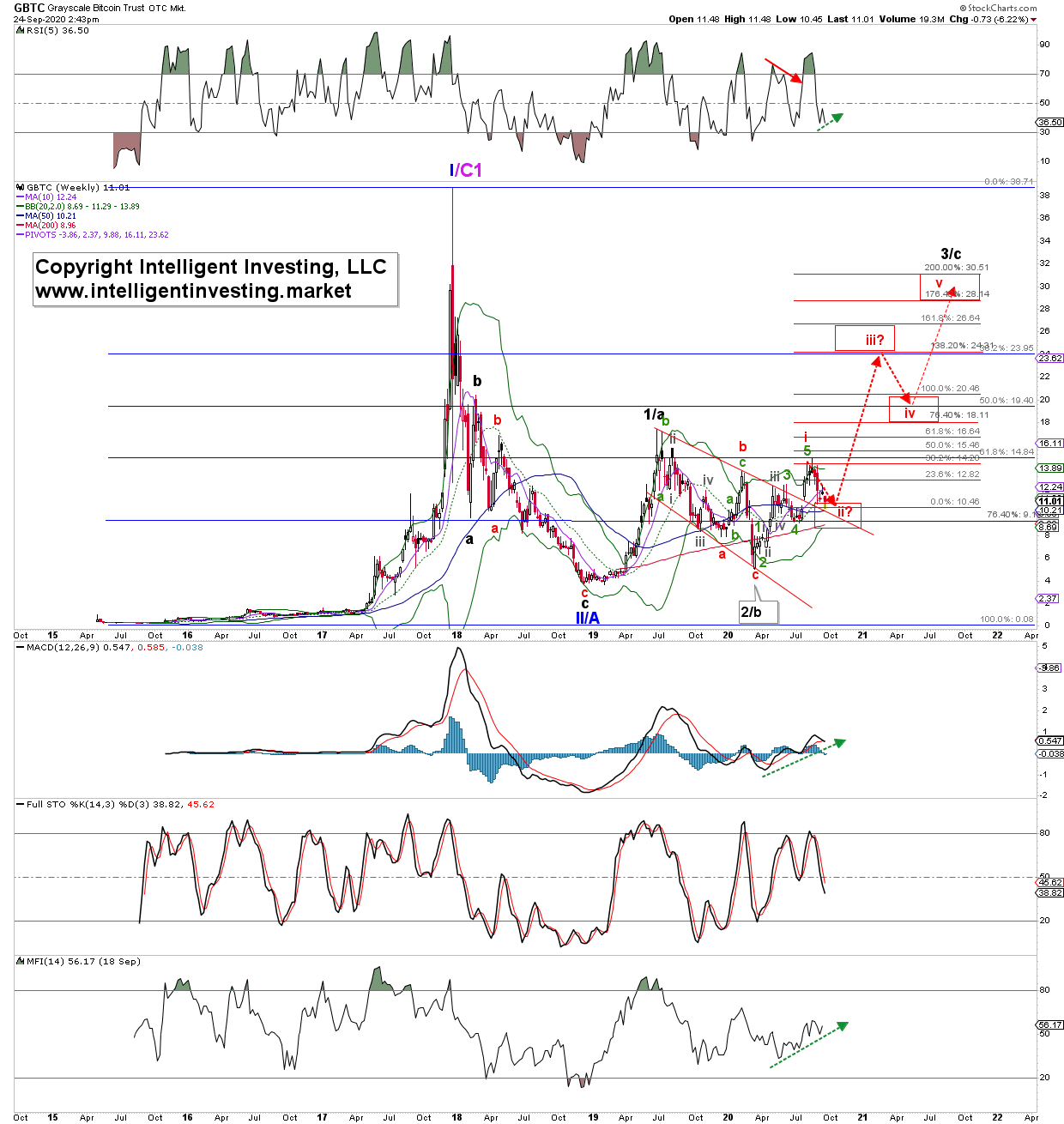 What I do know is that the decline from the ATH into the 2018 low (blue II/A) was three waves. The rally into the 2019 high was five waves (black 1/a); the decline into the March low was also three waves (black 2/b), and the rally into the recent high was also five (green) waves (red i). Since then, the instrument has been correcting, again, in three waves.
Based on standard Fib-retraces and -extensions for 2nd waves and c-waves, respectively, my ideal target zone on the weekly chart for red wave-ii has been $10.84-8.57 for a while. On the daily chart, I fine-tuned it to $11.97-10.57. My Premium Members can attest. Once the final waves were filling in over the last few days, I could adjust this target further to $10.60-10.20. Fast forward, and GBTC has, so far, bottomed at $10.45.
Bottom line: In my humble opinion, odds are starting to increase a more significant low is forming for GBTC (and also BTC). On the weekly chart above, positive divergences are starting to set up on the technical indicators (green dotted arrows). As long as the instrument can stay above its 50-week Simple Moving Average (SMA, $10.22), it has a good chance of moving higher. If it cannot, then the high $8s will most likely be revisited. For the bullish case, I do want to see GBTC move and close back above last week's high ($12.39) to tell me the current down move has ended. That will then also push the price back above its 20-day and 50-day SMA, which, in turn, will give us a nice-looking bullish setup that is then above its 20d, 50d and200d SMAs. Under such a structure, upside is often more likely, and dips should be bought.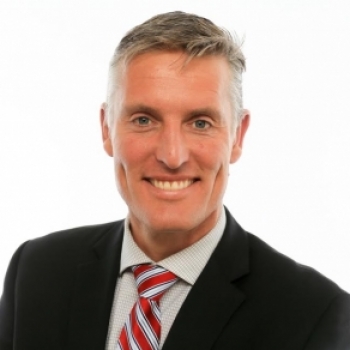 Written By:
Dr. Arnout ter Schure




Read More: Is It Time To Buy Bitcoin Using Gray Scale Bitcoin Trust?