BTC drags market lower on virus fears, XVG rallies on MobiePay tie-up, VET and ZEN chase new opportunities, McAfee launches new GHOST coin.
BTC
The cryptocurrency market met with a bout of overnight selling as Asian stocks and commodities opened with losses on fears of a second virus wave in China. The gloom filtered through to stocks futures with the Dow Jones set to open 2.5% lower.
I predicted in last week's article: 
BTC couldn't hold the rally above $10,000 at the beginning of last week and closed at $9,720. This risks a pullback if buyers don't emerge.
Bitcoin was unable to mount a serious rally over the $10k mark and the longer it stayed stagnant, the more the chance of a pullback emerged. BTC shouldn't really follow stocks, but gold was also down by 1% overnight, so it's liquidity that is the risk — investors taking profits on positions after a 2-3 month rally in many assets.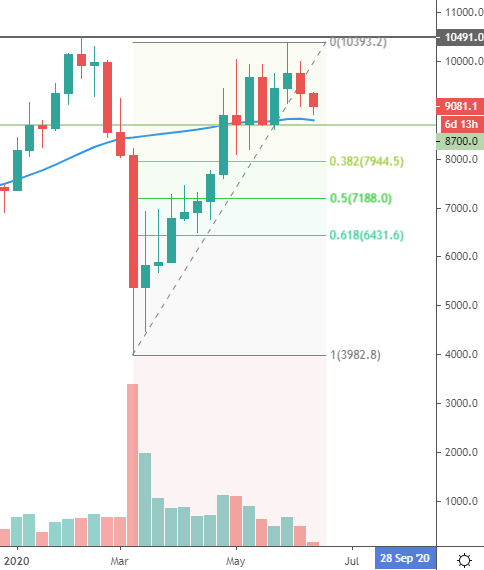 BTC was trading at $9,080 on Monday with support below at $8,740. If the coin were to trade through that level, then the Fibonacci levels of $7,188 and $6,431 could be targeted next.
XVG
Verge was one of the best performers on the week and held onto gains of 47% despite the selling across the market.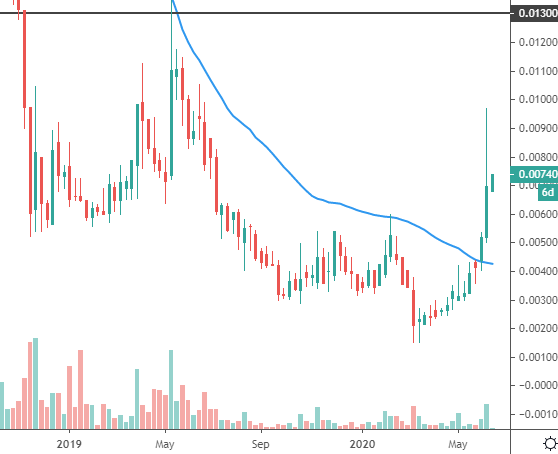 The coin was trading as low as $0.00134 in the mid-March selling but has rallied to $0.00756 for a gain of 300% overall. 
Verge got a boost from news that the coin was partnering with Mobiepay, a payments and rewards ecosystem. A Verge press release said:
This partnership will drive our users one step closer to a key element of the Verge Currency vision: our users being in control of their own data, which exactly mirrors the MobiePay™ vision.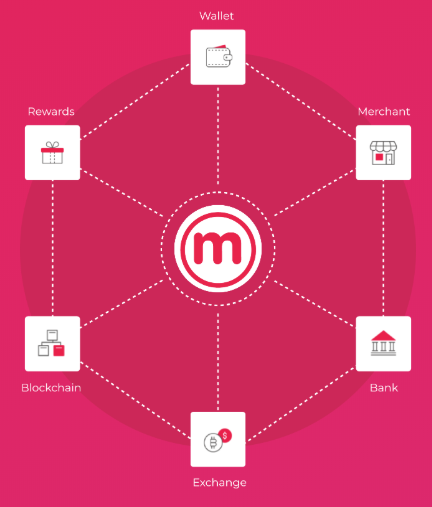 The rally in Verge opens up the $0.0100 level with resistance ahead at the $0.01300 mark.
VET
VeChain's VET coin was up 24% on the week Sunday, but the coin has given up some of the gains to trade up 10%.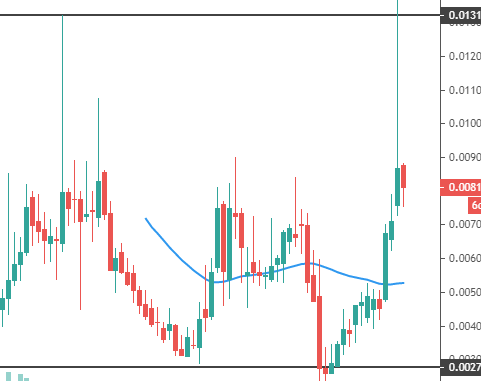 The development team has been busy in recent months creating a blockchain app for medical data, which was used to store Covid-19 records for a Cypriot hospital. The team has also been working with agricultural participants to trace products, including a partnership with a Chinese company- Shenzen Yuhongtai Foods. Through a scan of the QR code on the packaged product, customers will be able to learn more about the product and its origin before consumption.
VET currently ranks at number 28 in the list of coins by market cap with a value of $452 million. 
ZEN
Horizen coin traded similarly to VET with a gain of 28% that faded to 18%. The coin's pattern is also quite similar with prices trading in a range between $3.00 and $14.00. If the coin can break out of this area, then higher prices will be possible. 
ZEN development is looking at their "greatest releases to date," and hoping to get recognized as an A-class coin, with massive community growth.
In Q1, foundation requirements were completed for the Beta release of Horizen Sidechains. The ZEN community grew by 36.72%, and they have seen a large increase in community participation!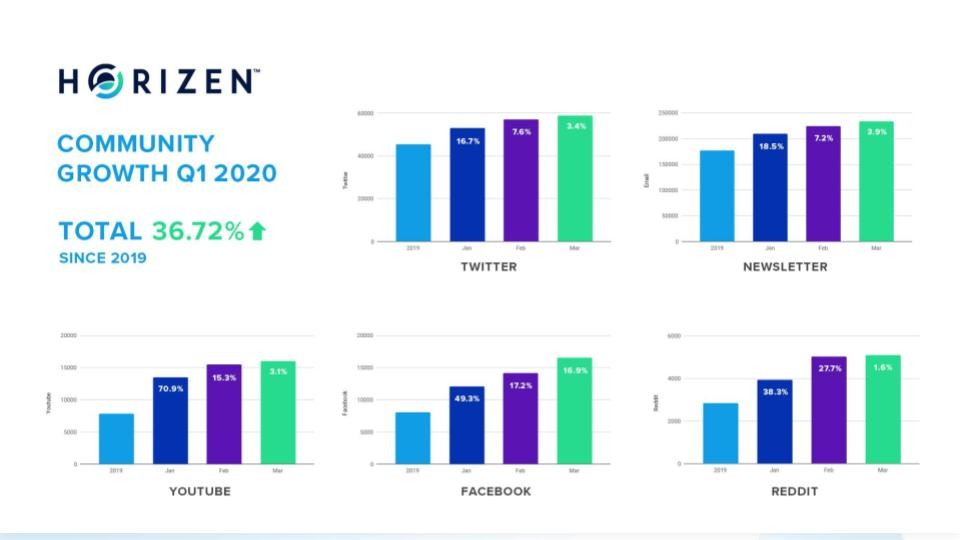 Horizen Sidechains will increase the usability and adoption of the Horizen ecosystem and create new opportunities for people to take part in the community. 
Other boosts for the coin's adoption include a new Korean Won on-ramp and a listing on Coinbase Custody, which offers institutional-grade security and storage.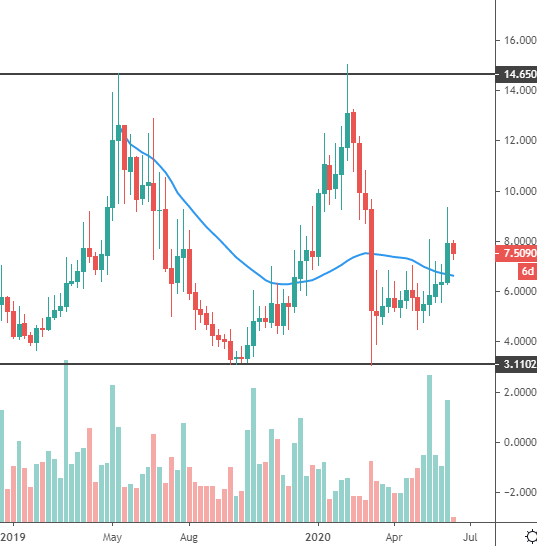 ZEN was trading at $7.50 on Monday after rallying near the $10.00 mark. The key resistance level for the coin was at $14.00. 
GHOST
A new coin on the block is Ghost, founded by John McAfee. The project's website describes it as,
…a Proof of Stake privacy coin to help make you nothing but a "ghost" when transacting online!
The Ghost vision document criticizes governments for spying on its citizens and corporations for harvesting user data and monitoring online activity.  The development platform states:
Over the course of this year GHOST will release innovative new features that will help you do everything from chatting to your friends on the GHOST encrypted chat app, to selling products privately in the P2P GHOST marketplace.
The Ghost mainnet launches in one week and the coin currently trades at $1.60 with a market cap of $21.7 million. There are currently 13.5 million coins in circulation from a potential supply of 55 million.
The coin's founder is an early tech entrepreneur and founder of the McAfee Antivirus software. In recent years he has lived a colorful life in exile due to a tax disagreement with the U.S. government. He is passionate about crypto and liberty, and his Ghost coin is another step in the direction of freeing people from excessive government…


Read More: Crypto Selling Returns Over Virus Return Fears, BTC, XVG, VET, ZEN, GHOST