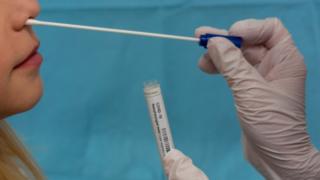 People using community coronavirus testing centres in England are waiting longer for their results, figures show.
Only a third of tests carried out in community venues were turned around in 24 hours in the week up to 9 September.
That is down from two-thirds the week before, NHS Test and Trace said.
Access to community testing has had to be rationed because labs are struggling to keep up with demand, but this is the first evidence tests which do happen are taking longer to process.
There are three types of community testing centres – drive-throughs, walk-in centres and mobile units that are deployed to hotspot areas.
All three saw rises in turnaround times.
Average turnaround times for regional drive-through centres rose from 20 to 27 hours, with 38% returned in 24 hours
For local walk-in centres the average was 35 hours, with just one in five results delivered in 24 hours
Mobile units faired best with an average of 26 hours, up from 19 the week before. Some 38% of results were given in 24 hours.


Read More: Coronavirus: Test turnaround times getting longer in England