The former "America's Next Top Model" host has taken over the hosting duties of "Dancing with the Stars," and as much as she respects her predecessors, she didn't feel intimidated by it.
46-year-old TV personality Tyra Banks talked to Extra at the backstage of "Dancing With the Stars" following her debut as the dancing competition show on September 14, 2020, replacing long-time hosts Tom Bergeron and Erin Andrews.
In the conversation, Extra's host Rachel Lindsay asked Banks whether she felt pressure about the "big shoes" she had "to fill" after Bergeron hosted the show for the past 28 seasons, with lots of fans disappointed about the change.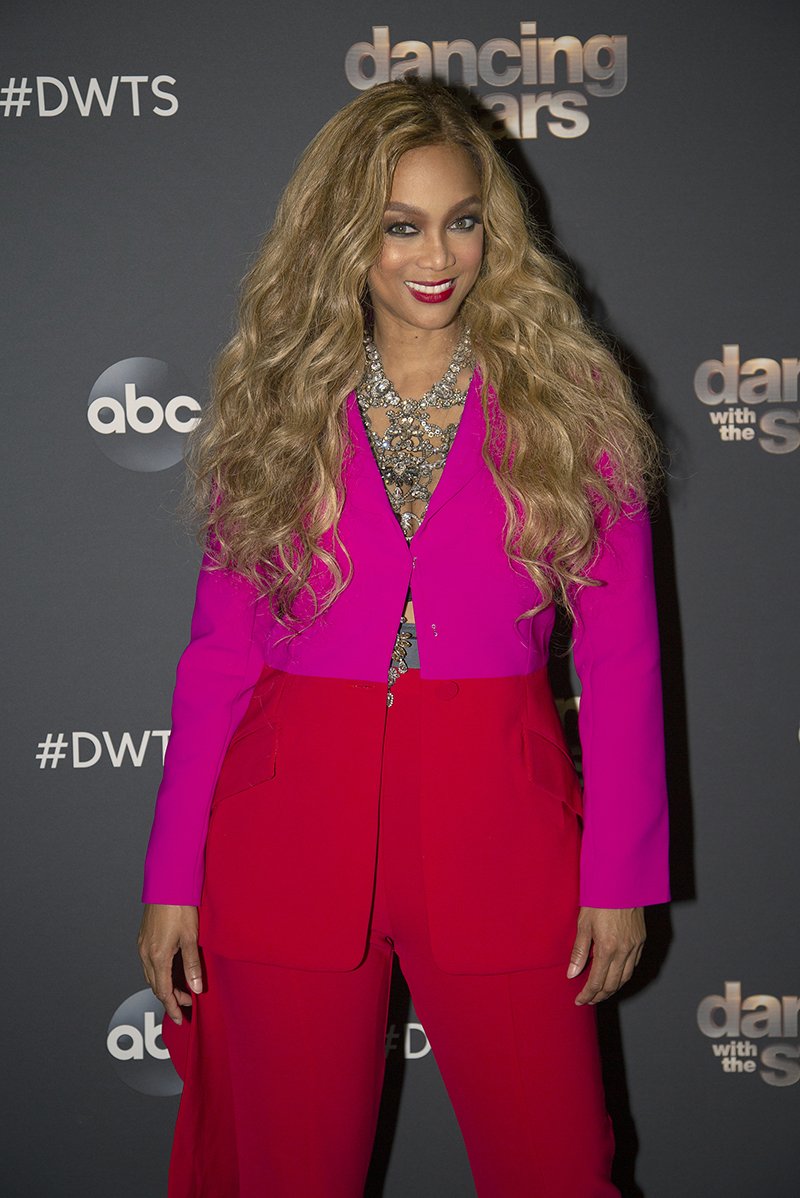 While Banks said that she didn't feel particularly pressured about taking over the show's hosting duties, she admitted to having been nervous before starting to film and during the first 20 minutes of the Season 29 premiere.
"I never get nervous," Banks clarified before revealing that her debut as "DWTS" host was an exception. "First 20 minutes I was nervous, I felt it in my body. I was nervous, but then after that, I kind of forgot we were live," Banks added. 
Banks also opened up about some of her favorite contestants, even though she knows she has to keep an objective perspective of the competition, considering herself sort of a "fairy godmother."
Nevertheless, Banks shred how positively surprised she was by rapper Nelly's performance, also praising "Jane the Virgin" star Justina Machado and 18-year-old YouTube star Skai Jackson.
SHE ONLY FEELS RESPECT FOR BERGERON
Banks also recently addressed the controversy surrounding Bergeron's and Andrews' surprising firing, and despite having had a lot to do with the decision of replacing the former hosts, she reminded everyone about how much she respects Bergeron.
"I have respect for him. And when the network called me, I sat on it for a very long time, because I knew what Tom had done," said Banks, who is also an executive producer of the show. And while she has a ton of ideas about the series' future, she said that she is taking things slowly as the show's leader, always respecting its huge audience.
A SHOCKING DECISION
Bergeron and Andrew's learned about the showrunners' decision to remove them from their hosting duties after so long, as they have shared in their social media lately, and even celebrities openly expressed their shock over the news.
Former "DWTS" contestant Karamo Brown was among the public personalities that took to social media to praise Bergeron and to thank him for his sympathy and advice, wishing him luck in the next chapter of his life and career.
"American Ninja" host Matt Iseman also reacted to the news in public, calling Bergeron "the best in the business" in a July 13 tweet. 




Read More: DWTS Host Tyra Banks Says She Didn't Feel Intimidated Stepping in after Tom