November WTI crude oil futures plunged during the overnight, in response to Trump's positive COVID-19 diagnosis. Since then, a hard test of September's low ($36.58) has taken place. At that point, bidders stepped in and ran the price back to $37.50. Traded volumes have been solid, coming in at 260,000 already for the session.
Once again, it's Friday and the Baker-Hughes Rig Count has been released to the public. U.S. oil rigs in operation came in at 189, up six from last week's figure of 183. The gain is being widely attributed to WTI returning to $40.00 per barrel.
At this point, one has to wonder if Trump's COVID-19 diagnosis will be the catalyst for a steep sell-off in WTI. Given OPEC's production boost, and the potential for more pandemic demand questions, is another April-type supply glut possible?
Aside from the Trump/COVID-19 issue, the main driver of the demand-side angst are fresh lockdowns.  A new lockdown in Madrid, Spain is prompting questions regarding the future of Eurozone commerce. The move has traders and investors cautious about the revisiting of last spring's economic shutdowns. 
WTI crude oil has been a casualty from this week's COVID-19-driven news cycle, losing more than 6%.
November WTI Crude Oil Tests November Lows
Earlier this morning, November WTI put in a hard test of September's Low ($36.58). Now, prices appear to be gaining a foothold above $37.25.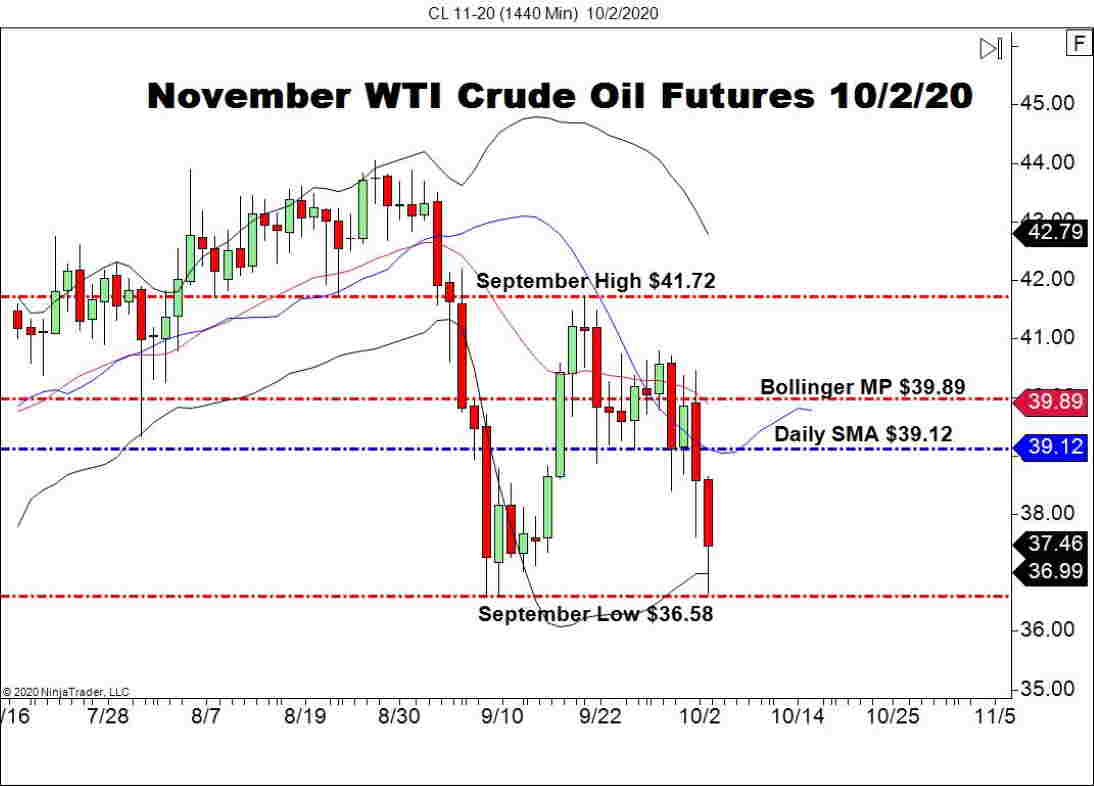 Overview: The key number for November WTI crude oil is $36.58. If we see this level taken out, a quick run to $35.00 is probable.
This weekend's news cycle is going to be all about COVID-19, stimulus, and the health of President Trump. Due to the presence of these market drivers, it's a good idea to close out open positions ahead of today's closing bell.




Read More: WTI Crude Oil Tests September's Low