Given the Biden – Harris tickets previous statements regarding fracking and the fossil fuel industry combined with current poll numbers that indicate they have a solid lead, it seems prudent to consider what effects their win might have on our energy investments.
In doing so however we need to keep in mind that stock prices and underlying cash flows are not necessarily always well correlated, with a significant dichotomy between the two being a potential opportunity. At Cash Flow Kingdom, we attempt to take advantage of such dichotomies. Particularly when current investor sentiment differs from the expected longer-term underlying cash flows.
For instance, despite these previous statements to the contrary, I take Biden's current statement that there will be no ban on fracking at face value. This is because a complete ban on fracking would almost certainly become a political disaster for the Democratic Party. Pennsylvania, Ohio, and other Midwestern Rust Belt swing states in the Marcellus and Utica regions would almost assuredly turn 'Republican Red' in response. An outright fracking ban could thus single handedly deliver to the Republicans both houses in the next midterm election and eliminate any chance of a second term in the White House for Biden or Harris.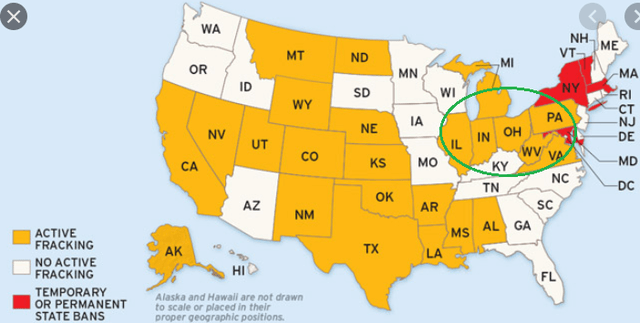 Source: The New York Times, Upfront
Nevertheless, lip service is likely to be paid to such an idea to appease those on the left side of the party, and maybe even some sort of tax might be proposed or imposed. This could drive investor sentiment toward the energy sector even more negative than it already is. However, an outright ban, or even a tax substantial enough to prevent significant fracking, is a non-starter. The Democratic Party is not that stupid.
Likewise, retracting existing permits and stopping existing drilling on federal lands is a no-go. This would not only produce the same unacceptable political effect for the Democrats, it would also cost the federal government tens, if not hundreds of billions of dollars under the Takings Clause of the Constitution.
"Amendment V: No person shall …nor shall private property be taken for public use, without just compensation."
Once again, maybe some threat of this occurring might affect stock prices for a time, but such action would quickly be held up in court. With prior Takings Clause precedent already having been successfully applied to mineral rights, such actions are going nowhere. All talk, no action, isn't that one of the definitions of a political promise?
An action that I view as more likely to actually occur, however, is a ban on issuing new drilling permits on federal lands. The Biden website continues to call for "banning new oil and gas permitting on public lands and waters" and he repeatedly states, "I said I would not do any new leases on federal lands."
This also is a political move that's initially easy to make. During the first term of a Biden Presidency there would be little effect on actual energy production thanks to the slow run-off of existing wells and a much greater number of permits having already been approved (the time it took to process federal mineral development permits was cut in half the year Trump first took office). A refusal to issue new permits under a Biden Presidency however would eventually have significant effect on energy production in the west, since most federal land is in the west. Thus the western Niobrara, western DJ, northern Delaware, and San Juan basins are some of the most notable basins likely to be affected.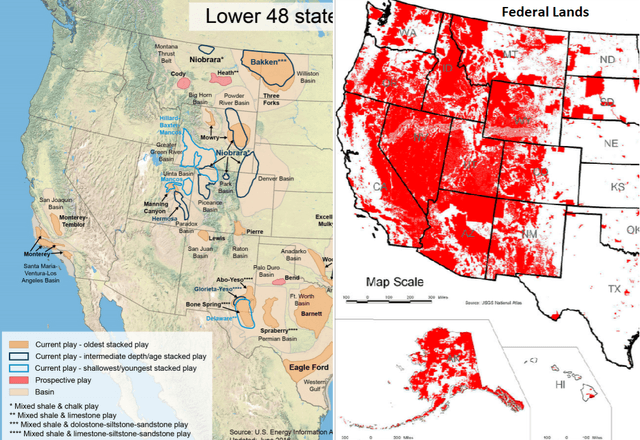 Source: US Energy Information Administration and Wikipedia
As an example of what I mean by long-term political risk involved in banning new permits, I point to the Pacific Northwest. Much of this region's current natural gas comes from federal lands in the western Niobrara Basin. This gas is delivered through MPLX LP (MPLX) and Williams (WMB) owned pipelines. Should these gas supplies decline, prices to ship the other main source of gas for this region, western Canadian-sourced natural gas, would likely rise. In effect you would be taking a major region serviced by two basins, cutting of the US source, and making them dependent upon a single source from Canada. This reduced availability would likely result in higher prices and cause some turmoil within the population of the region. Moreover, were a Canada-to-US pipeline to become out-of-service during some winter months, you could actually see hundreds of thousands of people in Seattle and Portland going cold for weeks, risking the wellbeing and potentially the lives of some. This scenario could cost the Democratic Party the Northwest middle vote or even bring about some defections from the Northwestern Democratic base.
For this reason, I think any outright drilling permit ban on…


Read More: How A Federal Drilling Permit Ban Could Impact The Williams Companies And MPLX