BTC was lower on the week as the rally paused, but altcoin rallies are still happening in the market with THETA and ZIL standing out this week.
ZIL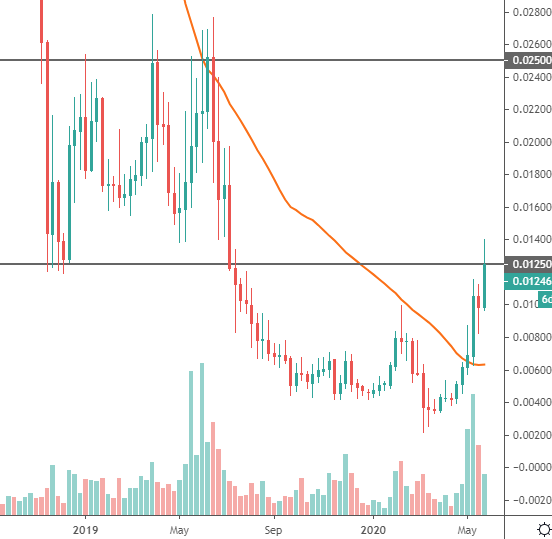 Zilliqa was up 35% in the last 24 hours as the coin continues to crawl back from the March lows, which capped a bearish run for the coin.
A recent partnership for ZIL has been with Transak, which allows a fiat on-ramp to buy coins in Euros, British Pounds, or Indian Rupees. Many new technologies are emerging which makes it easier for the public to buy cryptos without using trading platforms.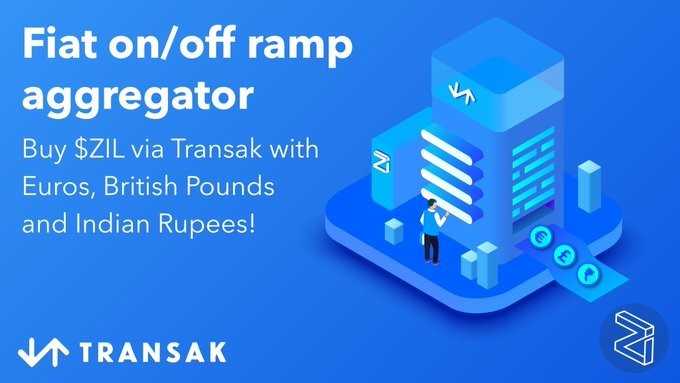 Ethereum co-founder was recently bullish about ZIL, saying that the project had,
…a lot of room to succeed and prosper.
I noted in a recent article that Zilliqa had released a new tipping bot on Telegram, which opens up access to Telegram's 400 million users. 
The project also recently launched a solution called SocialPay which allowed Twitter users to earn ZIL tokens for sharing project updates.
I said in my article on May 6th that ZIL, which was trading at $0.007 could go to $0.0120, and it is now trading above there this morning. This caps a move of around 300% from the March lows. ZIL is now testing resistance at $0.0120 and it would need to clear this hurdle to get to the $0.0250 levels. 
THETA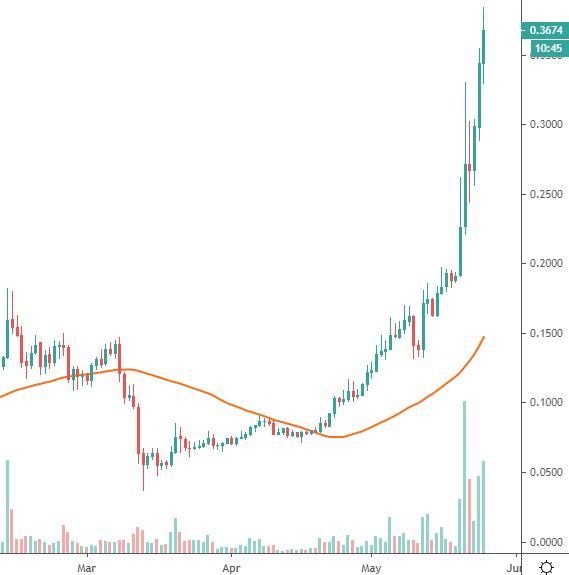 Theta Token was up 80% on the week as the coin sees major gains from the March lows. The token saw a low near $0.050 and is now trading at $0.36, which is a 620% rise. 
Theta is seeing strength as the market catches up to multiple developments from the project. Theta started life as a Youtube-style streaming and gaming service with their Theta.Tv platform. One of the project's founders in the early stages and we now hear that Theta.Tv will ship on the new Galaxy S20 smartphones, reaching a total global installed base of more than 75 million devices.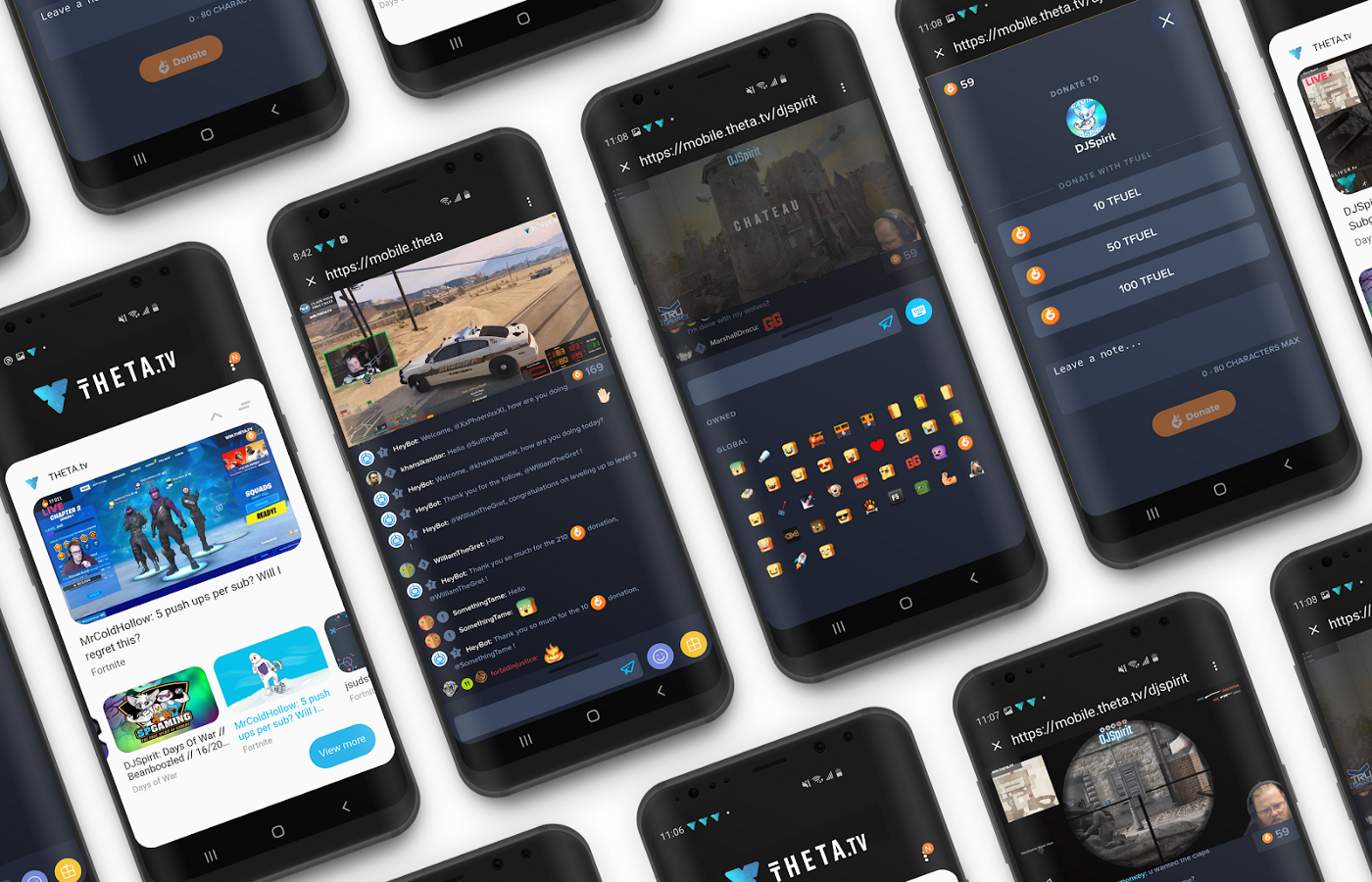 Alongside this, the app has been launched on Android smart TVs bringing Theta Fuel rewards to smart TVs. Theta is also launching a new Mainnet 2.0 on May 27th with technical improvements. 
Theta's impressive rise sees it trading at all-time highs and a pause may be due after a rally spanning over 70 days.
BTC
Bitcoin scarcity is a recent talking point after it emerged that Grayscale Investments had purchased around 33% of newly minted Bitcoin since the beginning of April. 
The firm noted in their first-quarter review that they had amassed a total of $389 million in their Bitcoin trust. Grayscale offers crypto money management to institutional investors and the company made $300 million in 2018. This highlights the upside potential of cryptocurrencies with rising institutional investment. More profits will equal more buying and less coin supply. The same goes for adoption if a public investment bubble was to occur.
The price of BTC is pausing after the recent rally and the halving event excitement. The weekly chart shows a bearish reversal bar and the risk is to the downside if the coin can't get above $10,000, but buyers have disappeared.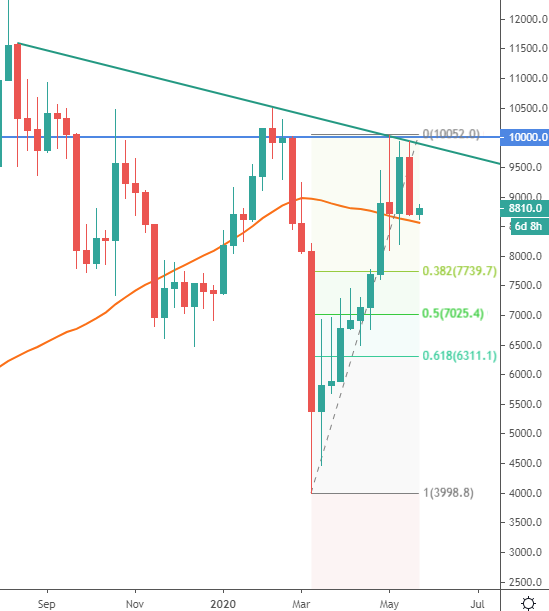 The pullback targets on BTC using Fibonacci are from $7,739 to $6,311. Another sell-off in the stock market could be a drag on cryptocurrencies as we saw in March. Stocks have rallied in the last month or two but the potential for economic shock is still there.
ETH
Binance has now added Ethereum and XRP options to its derivatives platform. Options contracts are mainstream in the stock world and allow buyers to pay a premium, which is a small deposit, to hold 100 shares of a particular stock at a certain strike price (target). If the market goes beyond their strike they can cash out the profit, if it doesn't then the options expire and you lose the deposit. Options are commonly used to hedge stock holdings against a downturn and Binance CEO Changpeng Zhao implied the same use for crypto options: 
Options contract is a much-anticipated product, allowing the traders and miners to effectively buy insurance on their positions and for speculators to take advantage of the market movements as well.
The crypto market is now driving forward with institutional interest and products. The only thing really missing is mainstream interest, but the growth of rewards programs could change that, and the recent turmoil in the financial markets are also a sign that the old systems are crumbling.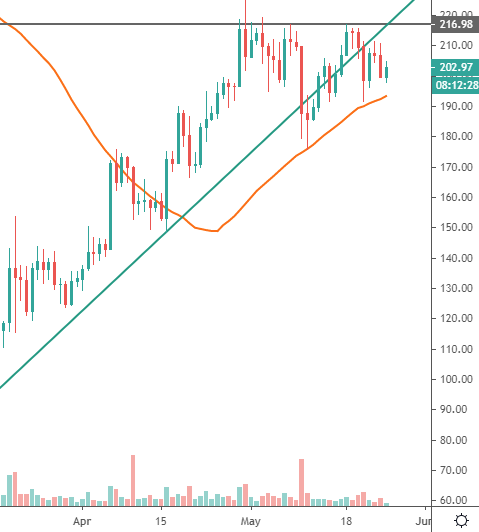 The price of ETH has paused with BTC and has broken an uptrend line. The possibility is open for another correction and ETH will have to get above the stubborn $217 level to remove the bearish possibility.
Disclaimer: information contained herein is provided without considering your personal circumstances,…


Read More: THETA and ZIL See Strong Gains as BTC and the Market Pause, ETH, May 25