It has been a lonely few months for Clifford Edwards. For the past 18 months he has been the sole employee at Appledore shipyard, near Barnstaple in north Devon.
Soon, though, Edwards will be working alongside colleagues again and the spookily quiet 118-metre dry dock will once more reverberate to the sounds of men and women toiling in heavy industry.
The shipyard, which over its 165-year history has produced craft including ferries, superyachts and parts of the Royal Navy's latest aircraft carriers, was last week rescued by Harland & Wolff, the Belfast yard that built the Titanic.
John Wood, chief executive of InfraStrata – the natural gas storage company that owns Harland & Wolff and last week bought the Appledore yard for £7m – promised that the yard, which closed in March 2019, would reopen in January 2021, directly employing 350 people and supporting about 1,000 more subcontractors and supply chain jobs.
"The thing that shakes you today is how eerily silent it is here," Wood said. "But soon the hustle and bustle and the noise will be back. For the north Devon community, this is huge news and it will be fantastic for everyone to get this yard busy again. It will be a real powerhouse in rebuilding the economy both locally and nationally."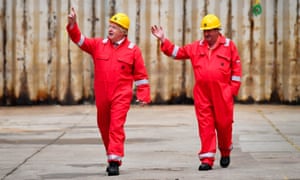 Boris Johnson was on hand last week for the official renaming of the yard as Harland & Wolff (Appledore), and promised that No 10 would do all it could to ensure enough government contracts were available to keep the yard viable for decades.
Johnson, who was photographed alongside Edwards and Wood, all in bright red Harland & Wolff jumpsuits, said Appledore had a "massive history but it's also got a great future".
Talking to a group that included a group of students who may take up apprenticeships at the yard, the prime minister said: "What we want to do is to ensure that there's a good enough stream of contracts coming through to drive jobs and growth here in Devon."
Babcock International, the defence firm that used to operate the yard, blamed a lack of government shipbuilding work for its decision to close the yard. Its shuttering had a devastating impact on the village of Appledore (population 2,814) and the surrounding area.
Andrew Eastman, a Devon county councillor who lives in the village, said the yard's reopening was "the most spectacular, fantastic news".
Eastman, who joined the shipyard as an apprentice several decades ago before switching to a career at sea, said he had shed more than a few tears when the yard closed. Talking outside his cottage, which still has a "Save Appledore Shipyard" poster in the front window, he said the closure had had "a huge impact on the village both economically and emotionally. The yard was by far the biggest employer around here, and Devonians are so proud of all the fantastic ships that have been launched out of that yard.
"To see the PM with students in the yard was just the most heart-warming image. I am most delighted that they will be bringing back the apprentice training scheme. It means so much that the skills will not be lost and that young people from around here can learn a trade – and all the trades are involved in shipbuilding. It is magical news."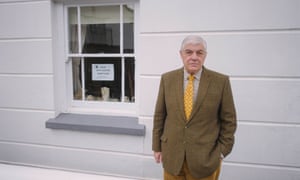 Wood claimed that Aim-listed InfraStrata, which has a market value of just £26.5m, would succeed where Babcock failed because it would take on a wider range of work and not rely entirely on sometimes-patchy government contracts. "We are operating across defence, commercial oil and gas and ferries, as well as doing conversion work," he said.
Wood said InfraStrata would submit a joint bid for a £1.5bn government contract to build up to three "fleet solid support" (FSS) ships to supply aircraft carriers with ammunition and food. The process was halted last year when none of the bidders could meet the terms.
"The UK maritime industry has for years and years been in decline, and governments have shown no interest in it. [But] now the government is interested, especially as Brexit is coming up," Wood said.
He said rivals Babcock and BAE Systems were both way behind on existing government contracts, and there was "a need for another player in the market to make sure projects get delivered on time and on budget".
Wood said he had talked to Johnson about the migrant crisis and suggested that the Appledore yard make a fleet of new naval patrol ships…


Read More: Reborn shipyard pins hopes for growth on post-Brexit boom | Business